Hip hop artist, poet to keynote Native American Heritage Month celebrations
Frank Waln and Tanaya Winder will headline a month of Native American culture and heritage events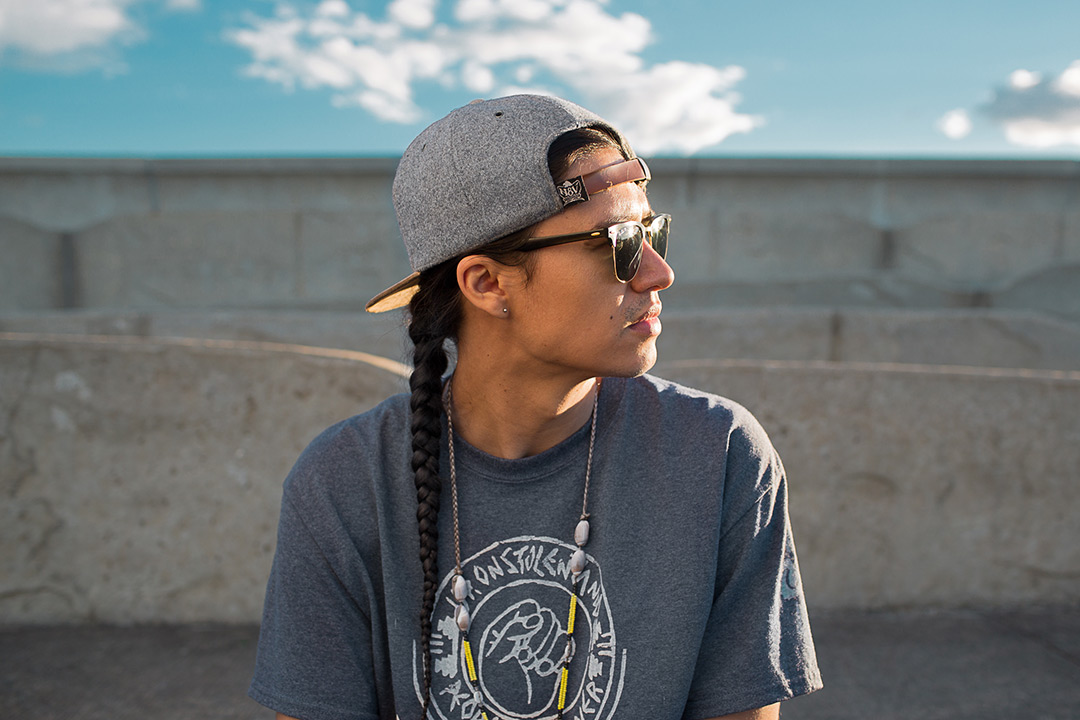 Tomas Karmelo Amaya
Award-winning Native American artists Frank Waln and Tanaya Winder will headline Rochester Institute of Technology's annual Native American Heritage Month celebrations. Their keynote event takes place 4-6 p.m. on Monday, Nov. 19, in Ingle Auditorium and is one of several RIT events throughout November highlighting Native American culture and history.
Waln is an award-winning Sicangu Lakota hip hop artist, producer and audio engineer from the Rosebud Indian Reservation in South Dakota. A recipient of the Gates Millennium Scholarship, he attended Columbia College Chicago where he received a BA in audio arts and acoustics. His awards include three Native American Music Awards, the 3Arts Grant for Chicago Artists and the Native Arts and Cultures Foundation 2018 National Artist Fellowship for Artistic Innovation. He has been featured in The Fader, Vibe, NPR, Paper Magazine, ESPN and MTV's Rebel Music. Waln travels the world sharing his story through music and presentations focusing on healing and reconnecting to our roots.
Winder is a poet, writer and educator from the Southern Ute and is a member of the Duckwater Shoshone Tribe. She received a BA in English from Stanford University and an MFA in creative writing from the University of New Mexico. She is the director of UC-Boulder's Upward Bound program. Her debut poetry collection Words Like Love was published in 2015.  
"We are delighted to bring such talented, inspiring artists to RIT to help us showcase and explore Native American heritage," said Nicole Scott, director of the Native American Future Stewards Program. "Waln and Winder will put on captivating performances, share their unique paths and encourage Native students to go beyond what they think is possible. I encourage all members of the RIT community to attend the keynote as well as the other events we are hosting throughout November."
Additional Native American Heritage Month celebrations include:
RIT's Native American Student Association and the RIT chapter of the American Indian Science & Engineering Society will host a kickoff event featuring music and light refreshments from 11 a.m. to 1 p.m. Thursday, Nov. 1, in the SAU Fireside Lounge. Music and light refreshments will be provided.
The NTID Presenter Series will feature hoop dancer Dawnena Muth, a member of the Pawnee/Flandreau Santee tribe. Her performance takes place 7-9 p.m. Thursday, Nov. 8, at the Student Development Center room 1300/1310. Food and drinks will be provided.
Students, faculty and staff are invited to participate in the annual Canandaigua Treaty Day commemorative event noon-4 p.m. on Sunday, Nov. 11. The event features a walk from Canandaigua Primary School to the courthouse to commemorate the Canandaigua Treaty of 1794, which brought peace between the United States and the Six Nations, and recognized the sovereignty of those nations. Students can request transportation to the event by emailing ndsfsp@rit.edu.
RIT's Native American Student Association and the RIT chapter of the American Indian Science & Engineering Society will close Native American Heritage Month with traditional stories at the Global Village firepit. The event takes place 6-7 p.m. Friday, Nov. 30.
All events are free to attend and ASL interpreters have been requested. The series is sponsored by RIT's Native American Future Stewards Program, the Center for Campus Life, the National Institute for the Deaf, NTID Student Life Team, RIT Global Education, the School of Communication, RIT's American Indian Science and Engineering Society chapter and the Native American Student Association. More information can be found at the RIT Native American Future Stewards Program Facebook page.