History book highlights first 50 years of NTID
'A Shining Beacon' is available through RIT Press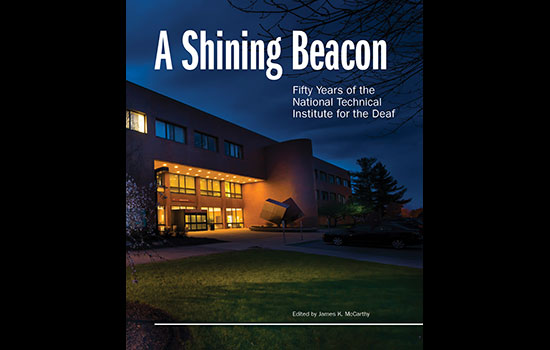 A new history book detailing the establishment and rise of one of the country's most innovative educational experiments is now available.
Published by RIT Press, A Shining Beacon: Fifty Years of the National Technical Institute for the Deaf highlights the first 50 years of the world's first and largest technological college for deaf and hard-of-hearing students at Rochester Institute of Technology. From its early days in 1968 to its 50th anniversary, NTID has graduated more than 8,000 alumni and has transformed the education of deaf and hard-of-hearing students in the U.S. and around the world.
Seen through the perspectives of selected contributors, A Shining Beacon illuminates the multifaceted experiences of NTID's students, faculty and staff, covering topics as varied as deaf culture, the performing arts, student leadership and more.
With a foreword by Gerard Buckley, NTID president and RIT vice president and dean— who is himself an alumnus of the college—the book features contributions by more than 30 current and former faculty, staff and students, and is filled with photographs from the college's archives through present day.
The book's title is based on a quote by S. Richard Silverman, former director of the Central Institute for the Deaf, who in 1974 referred to RIT/NTID as "a lustrous beacon…of such magnitude, dignity and décor…that will illuminate the hearts of all who come to be served here."
A Shining Beacon was edited by James McCarthy, who graduated from RIT/NTID in 2005 with a bachelor's degree in professional and technical communication and later earned a master's degree in library and information science from the University of South Florida. McCarthy returned to RIT/NTID in 2015 and is a senior marketing communications specialist with the college's Communications, Marketing and Multimedia Services Department.
The book's release coincides with RIT/NTID's 50th anniversary reunion celebration June 28–July 1 and can be ordered on the RIT Press website at https://www.rit.edu/press/shining-beacon.
Topics