Hockey-arena campaign announcement tonight
On-ice announcement scheduled for the first intermission of men's hockey game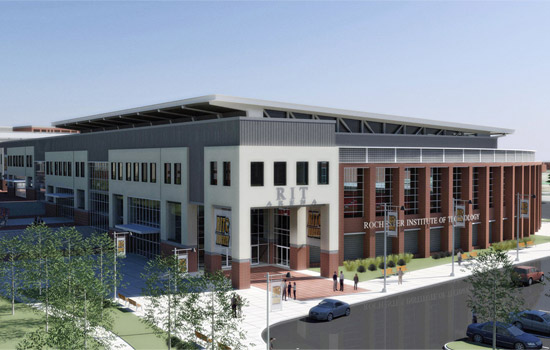 Bill Destler, president of Rochester Institute of Technology, will take to the ice of Frank Ritter Arena tonight to announce details of the latest and most significant gift to Tiger Power Play—the Campaign for RIT Hockey. His message will include an update on the overall status of fundraising activities for the new facility.
Tonight's announcement will take place at approximately 7:30 during the first intermission of the Atlantic Hockey Association contest between the RIT Tigers and the Air Force Falcons.
WHAT: Tiger Power Play announcement; most significant gift to date
WHEN: Approximately 7:30 p.m. Nov. 11
WHERE: Ice level, north entrance of Frank Ritter Arena
MEDIA PARKING: Reserved parking along Adele D. Clark Drive, located between Ritter Arena and the Gordon Field House and accessible through D Lot.
MEDIA CONTACT: Paul Stella, RIT, 475-4950 (office), 330-6098 (cell), pbscom@rit.edu
Topics