Homecoming features hockey, speakers and reunions
Host from popular cable series 'Mythbusters' is the Horton Distinguished Speaker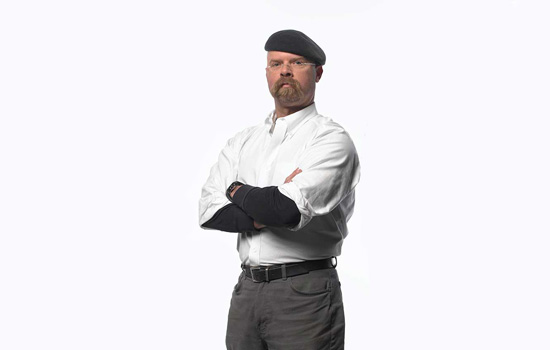 RIT men's hockey at Blue Cross Arena downtown, a host of the popular Discovery Channel show "Mythbusters" and more than 100 other events are planned for this year's Brick City Homecoming & Family Weekend, Oct. 16-18.
The weekend of celebration typically draws 17,000 participants to Rochester Institute of Technology's campus and the Rochester area.
This year's featured men's hockey game is RIT vs. Bowling Green State University, 7 p.m. Sat., Oct. 17 at Blue Cross Arena in downtown Rochester. All seating at Blue Cross Arena will be reserved, with no general admission. Ticket information is available online.
Jamie Hyneman, co-host and producer of the popular Discovery Channel show "Mythbusters," is this year's Student Government Horton Distinguished Speaker, and will speak from 2-3 p.m. Oct. 17 in the Gordon Field House and Activities Center. "Mythbusters," which debuted in 2003, has aired more than 160 episodes, tackled more than 750 myths and performed nearly 2,500 scientific experiments. Hyneman will give a moderated, lecture-style presentation of their experiments, explosions and hijinks.
"This is a great opportunity for parents to reunite with their students and for alumni to visit campus if they haven't been back in a few years," said Michelle Lezette, director of Brick City Weekend & Special Events. "We have activities and events planned for everyone, with several great speakers, tours, reunions, open houses, the annual hockey game, and more."
Other features include:
Vint Cerf, an Internet pioneer recognized as one of the "fathers of the Internet," will speak on "Digital Vellum: Preserving Digital Content for the Ages." Cerf, vice president and chief Internet evangelist for Google, visits RIT as part of Golisano College Dean's Lecture Series. His talk is 1-2 p.m. Friday, Oct. 16 in Ingle Auditorium.
Randi Zuckerberg, founder and CEO of Zuckerberg Media, a The New York Times bestselling author, host of 'Dot Complicated' on SiriusXM and editor-in-chief of digital lifestyle destination DotComplicated.co. The sister of Facebook CEO Mark Zuckerberg, she previously served as director of marketing at Facebook. Her talk, "Entrepreneurship, Ten Exciting Trends Impacting Your Business Right Now," will be at 4 p.m. Friday, Oct. 16 in Ingle Auditorium and is sponsored by the Saunders College of Business as part of the Gasser Lecture Series.
RIT Presidents' Alumni Ball, with RIT President Bill Destler and Alumni Association President Ricardo Venegas '92, 6:30-11 p.m. Friday, Oct. 16 at the Gordon Field House, with dinner, musical entertainment, an arcade and awards ceremony honoring RIT Volunteer of the Year Scott Saldinger '89, '91 and RIT Outstanding Alumnus Andrew Brenneman '86, '88.
Topics