April 17, 2012
by Brittany Remington
Honoring the Craft: The Mid-Century Ceramic Legacy of Frans Wildenhain
Behind the scenes at RIT's upcoming cross-gallery exhibition, Aug. 20–Oct. 2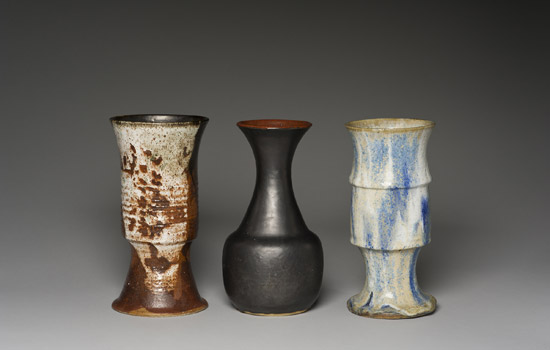 Bauhaus-trained ceramist, educator, studio pottery innovator and founding faculty member for the School for American Crafts at Rochester Institute of Technology are all titles that belong to Frans Wildenhain.
Wildenhain's legendary handcrafted artistry is featured in the exhibition "Frans Wildenhain 1950-75: Creative and Commercial American Ceramics at Mid-Century" from Aug. 20 through Oct. 2. In a first-time cross-gallery collaboration, the show runs simultaneously at two venues on RIT's Henrietta campus—Bevier Gallery and National Technical Institute for the Deaf's Dyer Arts Center.
Born in Leipzig, Germany, Wildenhain received his artistic training in the early 1920s at the Bauhaus pottery workshop. He emigrated to the U.S. following World War II and joined RIT in 1950 as a founding faculty member of the School for American Craftsman, now the School for American Crafts.
"In many significant ways, his life, his art, his career and his work encapsulate virtues that are models for us all," says Bruce Austin, curator of the Wildenhain exhibit. "He was the consummate and complete artist, a business entrepreneur and innovator, and a mentor whose students today are internationally admired."
Ceramic art legacy: RIT alumni who trained under Wildenhain during the 1950s and 1960s achieved fame. They include Rochester-based ceramic artists Nancy Jurs and Richard Hirsch; Ron Meyers of Decatur, Ga.; Virginia Cartwright of Fallbrook, Calif.; Bill Sax of South Hadley, Mass., and Henry Gernhardt of Cedar Key, Fla.
Artists' Cooperative: Wildenhain's entrepreneurial spirit is explored in the accompanying catalogue. Shop One (1953-1975) was an innovative arts and crafts business venture in Rochester that lasted nearly 25 years. When it first opened, there were only two places in the country to purchase handmade crafts: American House in Manhattan and Shop One in Rochester.
Mid-Century Ceramics: Mid-century studio ceramics represent one-of-a-kind handcrafted art, produced in limited numbers and with no two identical. The surviving ceramic art represents Modern aesthetics and artistic self-expression nested tightly in the context of their social, political and economic time.
RIT Archives: The collection recently acquired four of Wildenhain's sketchbooks from the 1970s that will be on view during the exhibition. According to Becky Simmons of the RIT Archives, the sketchbooks assist visualization of Wildenhain's mind and create a timeline for the artwork.
An accompanying catalogue, Frans Wildenhain 1950-75: Creative and Commercial American Ceramics at Mid-Century, is comprised of scholarly essays, archival images and color photographs of the objects on display. The text includes Wildenhain's biography, a history of RIT's School for American Craftsmen, contextualization of Wildenhain's art within mid-century modern U.S. ceramics and an investigation of the commercialization of crafts at Shop One.
The Wildenhain exhibit is a thematic extension of Austin's previous exhibit, "The Arts & Crafts Movement in Western New York, 1900-1920." Wildenhain advances the time frame, focusing on a single artist, to explore creative and commercial dimensions of artistic innovation.
For more information about the Frans Wildenhain exhibition, contact Austin at 585-475-2879 or go to the Frans Wildenhain gallery.