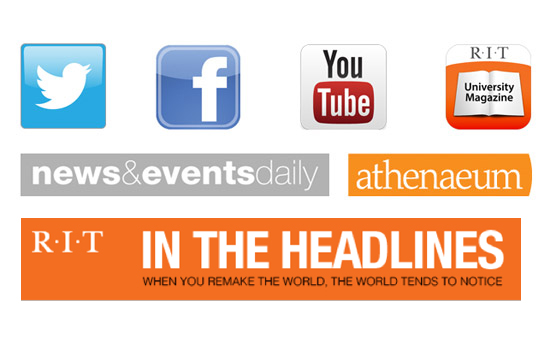 RIT University News Services offers these ways to keep up with campus news and events and more this academic year:

• News & Events Daily. Sign up for this newsletter, which arrives in your email Monday through Friday with the latest stories, videos, photos and calendar listings. See past issues at rit.edu/news/nandedaily.php.

• YouTube. Subscribe to the RIT University News channel for videos about campus activities and TV news clips.

• Facebook. Like RIT and RIT News.

• Twitter. Follow @RITNEWS and use #RIT.

• Athenaeum. Read feature stories and profiles in the print newsletter, available in the orange boxes throughout campus six times a year. You can also sign up to receive the online version in your email.

• The University Magazine. The magazine is printed three times a year and is mailed to alumni and current parents. You will find in-depth and trend stories on students and alumni, alumni profiles, letters to the editor, a message from President Destler, regional alumni activities, class notes and more. See the latest stories at rit.edu/news/magazine.php.
• RIT in the Headlines. This monthly email newsletter highlights RIT's most prominent media placements. See past issues at rit.edu/news/headlines.php or sign up online.

For more, go to www.rit.edu/news or email univnews@rit.edu.