Humans of New York creator comes to Brick City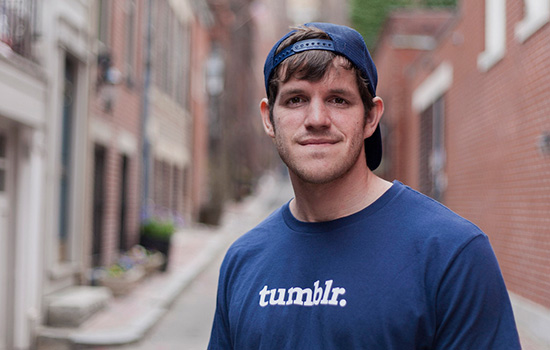 Brandon Stanton, the man who created the popular Humans of New York blog and books depicting portraits of life and individuals in New York City, will be this year's Student Government Horton Distinguished Speaker during Rochester Institute of Technology's Brick City Homecoming & Family Weekend, Oct. 14-16.
The weekend typically draws 17,000 participants to RIT's campus and the Rochester area. It features more than 100 events during three days, including notable speakers and men's and women's hockey games.
The weekend kicks off with the 2016 Presidents' Alumni Ball in the Gordon Field House, featuring dinner and a special awards ceremony honoring RIT alumni Mike Krupnicki '99 and Sharon Napier '04.
Other events include two concerts of Dueling Pianos; two Kaleidoscope Concerts , featuring RIT Singers & Choral Singers, Concert Band, Jazz Ensembles, African Percussion Ensemble, and more; and a free concert by Nerds Gone Wild, an '80s and '90s cover band.
A Family Fun Zone is planned from 11 a.m. to 3 p.m. Saturday in the Frank Ritter Memorial Ice Arena, with arcade games, Tiger Bounce House and for a $15 fee, you can "Build a Tiger," your own stuffed RIT tiger with a special edition RIT Brick City Homecoming T-shirt.
For those wanting to relive a bit of their college experience, there will be 20 free "Classes without Quizzes" programs. Topics include beekeeping, Venture Creations (RIT's business incubator), MAGIC Spell Studios, coping with loss, 3-D printing, business analytics, tour of RIT's 6.5-acre solar panel farm, integrated photonics, RIT expeditions to the Galapagos Islands, game design, antibiotic resistance, access technology, how Shakespeare looked at love, a campus tour of art and architecture, and the hunt for gravitational waves.
And Alexis Ohanian, Internet entrepreneur and founder of Reddit, will be the Gasser speaker for Saunders College of Business at 2 p.m. Oct. 14 in Ingle Auditorium. Tickets are $5 for students, $10 for parents, alumni, faculty and staff.
This year's featured men's hockey game is RIT vs. University of Connecticut.
On Sunday, seven individuals and the 1953-54 wrestling team will be inducted into the RIT Athletics Hall of Fame. The 2016 ceremony will be at 11 a.m. at Ridgemont Country Club in Greece. For more information, go to www.ritathletics.com.
Stanton's talk will be from 2-3 p.m. on Oct. 15 at the Gordon Field House. Tickets are $5 for RIT students, $10 for RIT faculty, staff, alumni and families, and $15 for the public. Tickets are available at the Brick City Homecoming website at rit.edu/brickcity or at University Arenas Box Office.
Brick City lineup
There are more than 100 events over three days. For a full schedule, and to purchase tickets, go to rit.edu/brickcity.