Humans of New York creator coming to RIT
Photographer, blogger and author part of homecoming with more than 100 events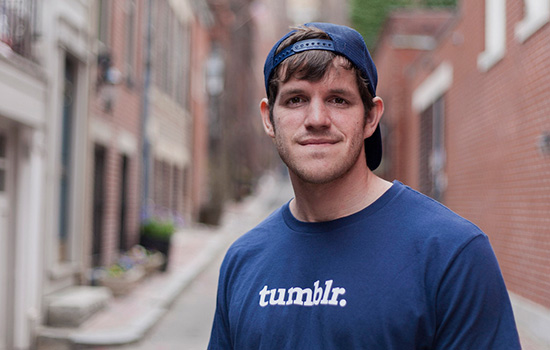 Brandon Stanton, the man who created the popular Humans of New York blog and books depicting portraits of life and individuals in New York City, will be this year's Student Government Horton Distinguished Speaker during Rochester Institute of Technology's Brick City Homecoming & Family Weekend, Oct. 14-16.
The weekend typically draws 17,000 participants to RIT's campus and the Rochester area. It features more than 100 events during three days, including notable speakers and men and women's hockey games.
"We have a plethora of new and exciting activities planned for everyone at this year's family weekend," said Lynn Rowoth, assistant vice president of special events and director of Brick City Homecoming. "With a wide array of speakers, tours, reunions, athletic events and so much more, the appeal is broad to intrigue and attract our students, parents, families, alumni, staff, faculty and guests."
Stanton's Humans of New York, which has more than 22.5 million followers on Facebook and Instagram, said it all began as a photography project in 2010, with a goal to photograph 10,000 New Yorkers on the street as a catalog of the city's residents.
He started adding quotes and short stories of their lives, and millions of people began following his images and stories of everyday people.
His first book, Humans of New York, was released in 2013 and was a bestseller for 45 weeks. His second book, HONY: Stories, released last year, was a bestseller within two weeks.
Delivering a commencement speech in May for New York University School of Professional Studies, he told graduates time is the most valuable resource in the world, and it shouldn't be wasted.
"I am thrilled and excited that Brandon Stanton has agreed to be the Horton Speaker this year," said RIT Student Government President Andrea Shaver. "He was someone I identified about a year ago, and I am so excited to see him speaking at RIT. He will be one of the first 'arts-related' Horton Speakers as powerful storyteller through his photographs and the stories he learns. It will be exciting to hear about that process."
Stanton's talk will be 2-3 p.m. on Saturday, Oct. 15, at the Gordon Field House. Tickets are $5 for RIT students; $10 for RIT faculty, staff, alumni and families; and $15 for the public. Tickets are available at the Brick City Homecoming website, https://www.rit.edu/brickcity/ or at University Arenas Box Office.
This year's featured men's hockey game is RIT vs. University of Connecticut, 7 p.m. Oct. 15, at Blue Cross Arena in downtown Rochester. All seating at Blue Cross Arena will be reserved, with no general admission.
Two games with the RIT women's hockey team are scheduled, for 3 p.m. Oct. 14 and noon Oct. 15, both at the Gene Polisseni Center versus Union.
Other events and speakers are planned. Visit the Brick City Homecoming & Family Weekend website for updates.
Topics