Image Permanence Institute awarded major grant
IPI receives $182,730 from the National Endowment for the Humanities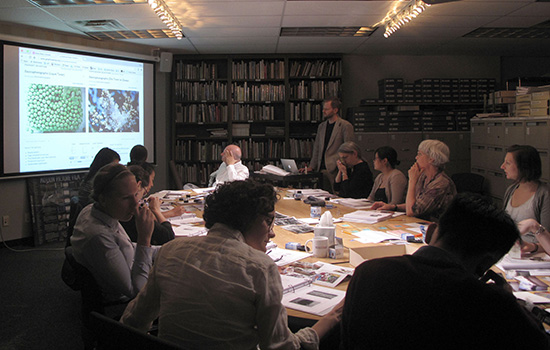 The Image Permanence Institute (IPI) at Rochester Institute of Technology has received a $182,730 grant from the National Endowment for the Humanities (NEH) Preservation and Access Education and Training program in support of "Teaching a Methodology for Photographic Process Identification."
During the two-year project, IPI will attempt to reach the broadest audience possible using a variety of outreach tools, including seven regional workshops, six 60-minute webinars and three short video tutorials on photographic process identification and care. These educational programs will focus on how to use Graphics Atlas, an online reference resource developed by IPI. Alice Carver-Kubik, a photographic research scientist at IPI and content developer for Graphics Atlas, will lead the project.
IPI has developed a structured process identification methodology and controlled vocabulary that starts from easily observable visual characteristics and then connects with an extensive online resource for determination of process, date, relevance and long-term care needs of pictorial objects.
"These workshops provide the vital element of firsthand experience with process examples and introduce the methodology and resources that IPI has developed," Carver-Kubik said. "A primary goal of this project is to inspire educators to incorporate this approach to process identification into their curriculum, perpetuating this information and enhancing the knowledge of current and future collections care and management professionals."
Dealing appropriately with visual source copies of all kinds—held by archives, libraries, museums and historical organizations—has been a perennially difficult problem in humanities scholarship, Carver-Kubik added. These materials exist in nearly every public collection and are used in every discipline. Whether it is for dating, cataloging, authentication or preservation, the answer to the questions, "what is this?" and "what relevance does this object have?" always involve decoding the clues that the physical print object itself presents.
"This skill—which is described in shorthand as 'process identification'—is something that each new generation of scholars and collection caretakers must develop, a task which becomes more complex as new technologies continue to develop," Carver-Kubik noted.
Dissemination of process identification information and consistent terminology will lead to improvements in humanities research and scholarship through more effective methods for object identification, cataloging, authentication and increased access to collections and their associated documentation. The project also is expected to lead to significantly better preservation of cultural heritage materials, since it is essential to know what an object is in order to care for it, Carver-Kubik said.
The IPI grant was one of 290 projects the NEH recently funded in 43 states, the District of Columbia and Puerto Rico totaling $16.3 million in grants that will support a variety of humanities-based research and programs.
About the Image Permanence Institute
The Image Permanence Institute, part of RIT's College of Imaging Arts and Sciences, is a recognized world leader in the development and deployment of sustainable practices for the preservation of images and cultural property. The institute accomplishes this through a balanced program of research, education, products and services that meet the needs of individuals, companies and institutions.
About the National Endowment for the Humanities
Created in 1965 as an independent federal agency, the National Endowment for the Humanities supports research and learning in history, literature, philosophy and other areas of the humanities by funding selected, peer-reviewed proposals from around the nation. Additional information about the National Endowment for the Humanities and its grant programs is available at the National Endowment for the Humanities website.
Topics