Imagine RIT Festival Dazzles 25,000 Visitors
Innovation and creativity on display at second annual event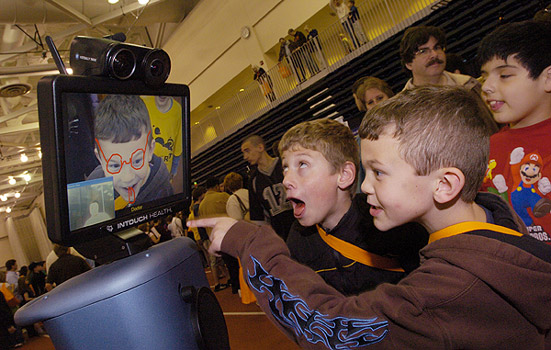 Max Schulte '96
Visitors raced solar powered cars. They played a harp with laser strings. Children made ice cream with liquid nitrogen. And some, who dared, got sucked into a black hole.
Welcome to Imagine RIT: Innovation and Creativity Festival.
A crowd of more than 25,000 attended the second annual festival on the campus of Rochester Institute of Technology. Imagine RIT showcased nearly 2,000 exhibitors—students, faculty and staff. They proudly displayed examples of green technology, new ideas for products and services, creative arts and crafts and groundbreaking research.
"Today was simply magnificent for RIT and the greater Rochester community," said RIT President Bill Destler. "It was exciting to see the ingenuity used in all the exhibits and activities. Visitors who explored campus discovered what happens when you unlock your imagination."
Jonathan Haehl, a 9-year-old from Penfield, N.Y., was inspired.
"I want to invent a space ship," he exclaimed to his sister Catherine, 12.
The children's mother, Nora Haehl, was also dazzled by the blend of technology and art that canvassed the RIT campus.
"The festival demonstrates how fun technology and art can be," she said. "We have seen exhibits that make subjects like math and science more accessible to children."
President Destler's "Green Vehicle Challenge" kicked off the day. The president issued his challenge to the RIT community as a way to encourage students, faculty and staff members to begin thinking about ways to utilize alternative forms of energy. The challenge participants competed to see which vehicle could complete a 3-mile loop around campus while expending the least amount of energy. (See related story.)
"It's important to move toward a sustainable future," said Destler. "We need to come up with some moderately inexpensive alternatives to what we have now. And what we saw today are some of the most unusual vehicles visitors will ever see."
So what will Imagine RIT think of next? Put a hold on your calendar for May 1, 2010.