Institute of Health Sciences and Technology coming
Outreach and research centers and ninth college will open this fall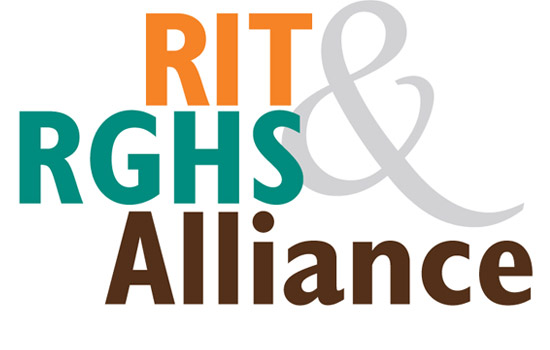 Rochester Institute of Technology and Rochester General Health System will open the Institute of Health Sciences and Technology this September, RIT President Bill Destler and RGHS President and CEO Mark Clement jointly announced today. The new institute will channel the strengths and expertise of the RIT-RGHS Alliance, formed in 2008 to produce technological solutions to health-care delivery and improve the efficiency of the "smart hospital."
The institute will address three aspects of health care and position the RIT-RGHS Alliance as a contributing player in the reform of the nation's health-care system by educating the next generation of health-care professionals, cultivating innovative research and addressing community health needs. Three distinct prongs comprise the institute: the College of Health Sciences and Technology, the Health Sciences Research Center and the Health Sciences Outreach Center.
"This is another tremendous milestone for the university and Rochester General Health System," says Destler. "Our partnership creates a climate for the kind of innovative problem solving that will improve quality health care delivery. The unlimited possibilities of technology drive the collaborative research of our physicians, faculty and students."
"The launch of the Institute of Health Sciences and Technology is a unique collaboration that will allow the alliance to innovatively respond to the growing convergence of medicine and technology in the advancement of clinical practice as well as the unprecedented changes expected to come from health care reform," says Clement. "By combining institutional strengths of clinical medicine, research and technology, the institute will train a growing number of future health-care professionals while advancing technology-based research that will benefit our community locally and the health-care delivery system nationally."
A vice president/dean will be hired by July to lead the institute and will report directly to RIT Provost Jeremy Haefner. The new vice president will facilitate interactions with colleagues and CEOs at other institutions and will initially direct the outreach and research centers until those positions are filled. Destler and Clement will co-chair the institute's advisory board, consisting of faculty, physicians, staff, trustees and students. Plans for a potential $27 million building to house the programs on the RIT campus will begin in 2012, with an anticipated completion date in 2015.
College of Health Sciences and Technology
The College of Health Sciences and Technology will become RIT's ninth college and will educate the next generation of health care providers and related researchers. Existing programs that will move to the new college include physician assistant (B.S./M.S.), diagnostic medical sonography (B.S. and certificate program), biomedical sciences (B.S.), clinical chemistry (M.S.), nutrition/management (B.S.), health systems administration (M.S.) and medical illustration (M.F.A.).
Destler announced four RGHS appointments to RIT faculty: Richard Gangemi, M.D., senior vice president of academic and medical affairs at RGHS; Ralph Pennino, interim chief of surgery at RGH; Michael Pichichero, M.D, director of the Rochester General Hospital Research Institute, and Joseph Vasile, M.D., president/CEO of the Greater Rochester Independent Practice Association.
Institute of Health Sciences and Technology Research and Outreach Centers
Two additional components of the institute—the Health Sciences Research Center and the Health Sciences Outreach Center—will meet work force and community needs and apply innovative technologies in health-care delivery.
The Health Sciences Research Center will focus on infectious disease and immunology, cancer, cancer vaccines and blood disorders, cardiovascular disease, health systems engineering, biotechnology, bioengineering, imaging science, computing and information science, deaf technologies and medical devices.
The RIT-RGHS Alliance already has awarded a total of nearly $280,000 to 14 research teams in "seed" funding for projects including a vaccine candidate that could prevent ear infections in children, an artificial bicep and non-invasive methods of monitoring women in labor.
The third component of the institute, the Health Sciences Outreach Center, will aid regional work force development programs by retraining displaced workers in Lean Six-Sigma for heath care, an approach to streamlining and improving patient-care processes. The center will also partner with regional work force development agencies and develop and support community health initiatives.
For more information about the alliance, go to www.rit.edu/rghs.
##
About RIT: Rochester Institute of Technology is internationally recognized for academic leadership in computing, engineering, imaging technology, sustainability, and fine and applied arts, in addition to unparalleled support services for deaf and hard-of-hearing students. RIT enrolls 17,000 full- and part-time students in more than 200 career-oriented and professional programs, and its cooperative education program is one of the oldest and largest in the nation.
For two decades, U.S. News & World Report has ranked RIT among the nation's leading comprehensive universities. RIT is featured in The Princeton Review's 2011 edition of The Best 373 Colleges as well as its Guide to 286 Green Colleges. The Fiske Guide to Colleges 2011 includes RIT among more than 300 of the country's most interesting colleges and universities.
About RGHS: Rochester General Health System serves the community of Greater Rochester and beyond. It has earned national recognition for excellence in a variety of clinical specialties. Rochester General Hospital, the flagship of the system, is a 528-bed tertiary care facility that treats more Monroe County patients than any other hospital in the area. It is the fourth largest cardiac center in New York and has been recognized as one of the nation's 100 Top Cardiovascular Hospitals nine times.
RGHS also includes Newark-Wayne Community Hospital, a 120-bed facility primarily serving Wayne County; two long-term care facilities—Hill Haven and DeMay Living Center; a Medical Group consisting of more than 40 practices spread throughout Monroe and Wayne Counties; a Behavioral Health Network that provides adult and pediatric care; and Independent Living for Seniors, a program for seniors designed to enable the frail elderly to live in their own home, served by a network of supportive services.
Topics