Keith Jenkins named vice president and associate provost for diversity
Jenkins promoted after serving in the role in the interim since 2016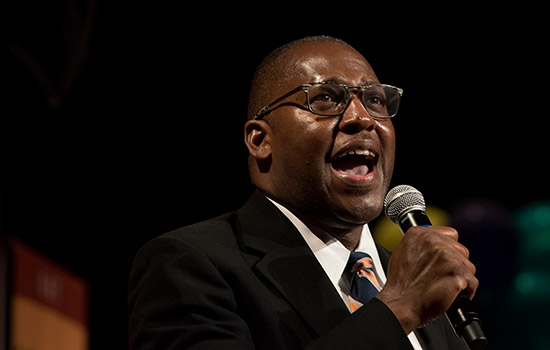 A. Sue Weisler
Keith Jenkins has been appointed vice president and associate provost for Diversity and Inclusion at Rochester Institute of Technology. Jenkins has been serving as interim vice president and associate provost since June 2016 and assumes the new position Nov. 1.
"Keith is committed to working with university leaders and RIT Trustees to advance the mission and goals of RIT's 2015-2025 Strategic Plan: Greatness Through Difference," said RIT President David Munson. "The Division of Diversity and Inclusion continues to flourish under his leadership as it works collaboratively with academic and administrative units to provide a holistic range of services that enhance access and success for historically underrepresented students, faculty and staff, support education and scholarship, and ensure a welcoming, inclusive, vibrant and accessible environment for everyone."
Since beginning his career at RIT in 1992, Jenkins has served as RIT faculty-in-residence (1993–1995), RIT's first assistant provost for diversity (1999–2002) and director of undergraduate degree programs in the School of Communication (2011–2016).
"RIT's commitment to diversity spans several decades," said Jenkins. "I am honored to continue the great work already underway as we—students, faculty and staff, together—model inclusive excellence while advancing RIT's diversity vision and mission."
Jenkins has received many awards for his commitment to diversity and academic excellence, including the 2010 Eisenhart Award for Outstanding Teaching, the 2005 Isaac L. Jordan Pluralism Award, the 2004 RIT Diversity Trailblazer Award, the 1993-94 Provost's Excellence in Teaching Award, the 1996 and 1997 Higher Education Opportunity Program "Community Professor" awards and the National Technical Institute for the Deaf's 1995 Pluralism Award.
Jenkins received his Bachelor of Arts degree from the University of Arkansas and his Master of Arts and Ph.D. from Florida State University. His scholarly publications and presentations center around studies in intercultural communication, political and visual rhetoric, and the rhetoric of gospel song. Most recently, the focus of his research has been on pragmatism and the rhetoric of inclusion in Barack Obama's 2008 presidential campaign.
Jenkins replaced Kevin McDonald, who held the diversity leadership position from 2010 to 2016 and left RIT to take on a similar role with the University of Missouri. RIT has received several national awards for its commitment to diversity since Jenkins' took leadership of the Division of Diversity and Inclusion. For the first time, RIT was recognized as an institution committed to diversity for 2017 by Minority Access, Incorporated earlier this year. Also in 2017, INSIGHT into Diversity magazine awarded RIT a Higher Education Excellence in Diversity (HEED) Award for the fourth time and named RIT named a Diversity Champion by for the third consecutive year.