June 28, 2010
by Paul Stella
Kodak, RIT announce support of Golisano Institute for Sustainability
Funding supports creation of Kodak Lab for Collaborative Research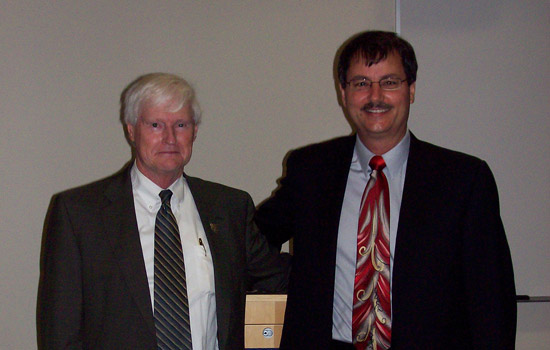 Eastman Kodak Company today announced a $1 million disbursement from the company's Rochester economic development fund in support of the Golisano Institute for Sustainability at Rochester Institute of Technology.
The funding supports a Kodak Lab for Collaborative Research, as well as scholarship, equipment, and operations at the sustainability institute, said Terry Taber, Kodak's chief technical officer and vice president.
"As Kodak has strengthened its commitment to design for sustainability and environmental stewardship, we saw a clear need to support the education of the next generation of scientists, engineers, and mathematicians," Taber said.
Taber announced the support at the kick-off of the 2010 Summer Mathematics Institute Teachers Workshop held at RIT. Kodak is a co-sponsor of the workshop, organized by RIT's School of Mathematical Sciences, which immerses about 60 area high school teachers in panels and sessions that link their mathematics instruction with college and industrial math needs. Retired and current Kodak researchers participated in the workshop.
"Kodak is working to partner with educators to provide experiences that will help inspire students' enthusiasm for STEM (science, technology, engineering, and math) disciplines," Taber said.
"This latest partnership between Kodak and RIT is focused on improving the prospects of a sustainable world for generations to come," explained Bill Destler, RIT president. "The Golisano Institute for Sustainability at RIT provides the premiere platform to collaborate in the creation of innovative education programs and technology related to sustainability, and Kodak's support certainly enhances our leadership position."
Kodak's support for the sustainability institute comes from a $15 million economic development fund created by Kodak leadership in 2003 to support area economic growth initiatives. This final contribution completes disbursements from the Kodak fund.
Topics