Language learning for technical disciplines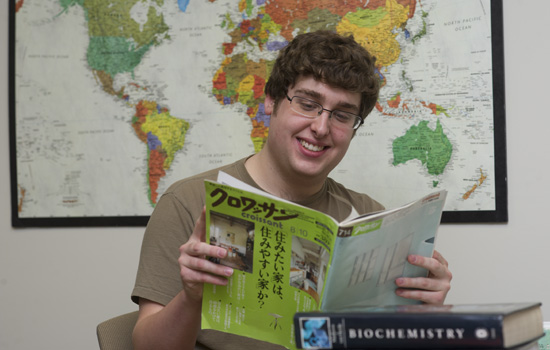 A. Sue Weisler
A federal grant from the Department of Education will soon be used by RIT's College of Liberal Arts to take foreign language learning by students in technical disciplines to the next level.
The grant funds a project that integrates two disciplines—one in languages and culture and another in a technical field of science, technology or business—according to Hiroko Yamashita, the Paul and Francena Miller Professor in International Education, professor of Japanese and chair of the modern languages and cultures department. The project aims to produce students who actively apply their knowledge of language and culture in their technical disciplines, through courses such as Japanese for science and technology, Spanish for professional purposes, and project-based seminars. "Across the United States, there has always been a disconnect between foreign language learning and many of the technical disciplines our students are engaged in," said Yamashita. "However, this project is groundbreaking in connecting the two. It also plays a role in RIT's strategic focus to be organizationally agile and develop programs that meet the changing needs of our students who are heading into co-op assignments and careers around the globe."
Students will continue to receive solid training in a modern language and its culture; they will also have opportunities to learn how to actively apply the knowledge in technical fields, how to evaluate or present new specifications to an international client, for example, or how to engage in effective negotiations in professional settings in the target culture.
Brandon Cona, a fourth-year biochemistry student who minors in Japanese and Spanish, has visited Japan three times since enrolling at RIT and hopes to secure employment there upon graduating in May. In addition to studying at a university in Kyoto, the Rochester native interned at Tokyo Chemical Industry Co., Ltd., where he investigated chemicals related to cancer resistance and antibiotic resistance.
"My foreign language training was crucial for learning how to fit into the Japanese workplace," said Cona. "I was at ease talking to my co-workers, was well-prepared for my job and I actually exceeded my supervisor's expectations. But it's particularly important to learn the scientific application of the Japanese language. This program will enable RIT students to do just that."
The courses that bear the concept are now currently developed in partnership with Liberal Arts, Saunders College of Business and College of Applied Science and Technology. The courses of language for science and technology, language for professional purposes, and a project-based seminar, will begin to be offered in piloting languages during the next academic year. The department ultimately aims to create a degree program in applied language and culture, with a double-major in technology or business.
"International education has been a priority on this campus for many years," said Yamashita. "In addition to strong career development, which has been a hallmark of RIT for decades, this project will help students gain skills on how to handle real-world situations in the international workplace and establish lifelong learning development. This is the right time, and RIT is the right place for this exciting project."