Learn about the immune system at Imagine RIT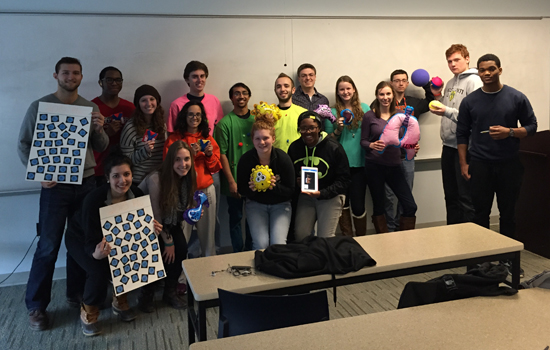 Kayla Malchoff
Rochester Institute of Technology's Premedical Student Association invites visitors to the Imagine RIT: Innovation and Creativity Festival on May 2 to play "The Adventure of the Immune System," a game of good health for all ages.
"We decided to focus on the immune system because it is such a unique and specialized part of the human body," said Kayla Malchoff, a fourth-year biomedical science student from North Rose-Wolcott, N.Y., and president of the RIT Premedical Student Association. "The body's immune system is always working to try to keep our bodies safe from dangerous microbes."
The game casts the participants as doctors who must diagnose their way back to health and defeat evil pathogens threatening to harm their immune systems. Through the three stages of the game, visitors will learn how pathogens weaken the immune system, how the body's defenses fight diseases and how healthy choices can help prevent illness.
Visitors will spin the wheel of fate at table No. 1 in the Gordon Field House to begin the game with one of five pathogens—flu, common cold, food poisoning, pneumonia or tetanus. Healthy choices made at table No. 2 win participants an arsenal of antibodies to throw at students designated as pathogens and beat the disease. The game ends at table No. 3, where visitors will learn how to prevent catching the illnesses in the game.
"I think this exhibit will be very educational and help kids start to understand how the body is able to fend for itself without the use of antibiotics, considering current worries about antibiotic resistance," Malchoff said. "We have questions set up like, 'Which is better to aid your immune system—cake, burgers, or fruits and vegetables?' We'll ask simple questions to help reinforce that people should be eating healthy to keep the immune system working hard."
RIT's Premedical Student Association is a large club, with 30 active members and more than 200 people on the email distribution list, Malchoff noted. In addition to Malchoff, other PSA students who contributed to the exhibit include Jacob Scott, Rebecca Wilhelm, John Bennison, Zohal Tawakali, Delanie Kneeland, Elise Grzeskiewicz, Natalie Walters, Jrew Simmons, Logan Adamczak, James Bice, Abbey Siulinski, William Marmor, Danielle Kindron, Madison Rose, Alyssa Ratajczak, Lindsay Smith, Kyle Burke, Brittany Blanchard-Collier, Megan Bolger, Sarah Clayton, Rachel Rabenn, Lily Trabold, Emmanuel Perrodin-Njoku, Than Oo, Rosemary Carter, Karnan Rajkumar and Anthony Hanna.