November 21, 2011
by Kevin Fuller
Living simply—through photography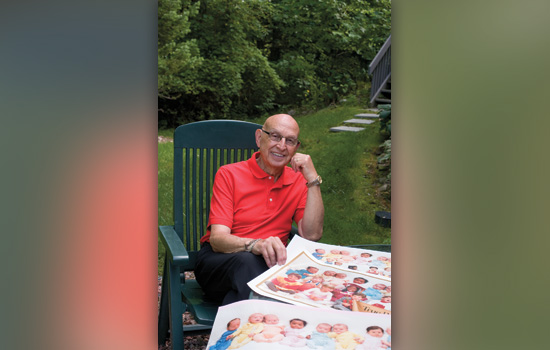 Sam Campanaro '57 (illustrative photography) has lived a life of photography.
He spent 42 years working at Eastman Kodak Co., using some of the most advanced photographic equipment in the last century.
He was part of a staff of 17 photographers during the breadth of Kodak's reign, working in research for 31 years and then overseeing the portrait studio.
His work includes the famous photograph 15 Babies, which he shot in 1983 for a Kodak Colorama program.
"I'm still getting requests—even over the Internet," he says about the poster featuring the photo. "I'm still getting calls."
Campanaro, who purchased a handful of the remaining posters before retiring, has given them to charities. He's given them as gifts. People know the photograph, he says.
The Kodak Coloramas were massive 18 feet by 60 feet color photographs that hung in Grand Central Station in Manhattan. Millions of people saw the images as they scampered to catch their trains.
"It really did make people realize they could shoot their own color photos," says Steve Kelly '71 (photo illustration), who is now a senior photographer at Kodak. Kelly shot roughly 15 to 20 Coloramas and says Campanaro played a huge role in the success of the program.
"He shot probably the most famous one ever," Kelly says. "He never lets us forget it," he adds with a laugh.
Campanaro may be famous for 15 Babies, but he doesn't want to be remembered only for the one photo. "The sad thing is, is that's the only thing I'm known for," he says. "I have a couple of friends who tease me because this got a lot of publicity."
Campanaro's portfolio is filled with images from expedition shoots for the American Museum of Natural History and the Seoul Olympics in 1988. He was commissioned to shoot the Statue of Liberty and photographed President Ronald Reagan twice.
Today at the age of 82, nothing makes Campanaro giggle quite like talking about his point-and-shoot digital camera.
He hasn't shot a roll of film in 10 years.
He has more than 12,000 images on his hard drive. On a recent trip to Italy and Germany, he shot more than 600 images with his Canon G-12. "You should see the images," he says. "They look like postcards."
Campanaro has fallen in love with photography all over again. "I don't go anywhere without this camera."