MAGIC Spell Studios joins forces with Crytek
RIT will participate initiative to bring virtual reality labs to universities in the United States and Canada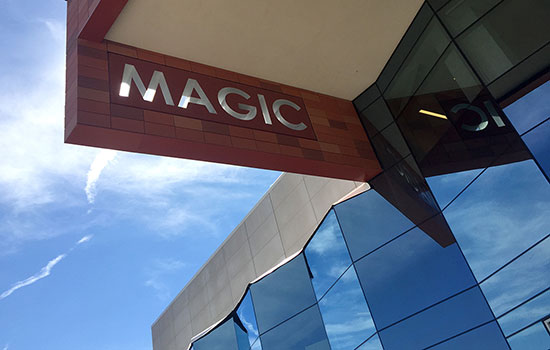 Rochester Institute of Technology was recently named to a distinguished list of institutions selected by Crytek, an independent videogame developer, publisher and technology provider, to help develop seven new virtual reality labs at universities in the United States and Canada, including at RIT's MAGIC Spell Studios.
The Crytek initiative, VR First, seeks to promote grassroots research and development in virtual reality by providing state-of-the-art hardware and facilities at academic institutions around the world. Joining RIT in the initiative are Carleton University, California State University Monterey Bay, Purdue University, University of Florida, University of Southern California—School of Cinematic Arts, and Vancouver Film School. The institutions will pioneer VR First and follow on from the successful launch of the first such facility at Istanbul's Bahçeşehir University earlier this year.
"We are delighted to partner with Crytek (Cryengine) and the VR First Initiative as a part of our effort in the MAGIC VR/AR laboratory," said Andrew Phelps, founder and CEO of RIT's MAGIC Spell Studios. "Virtual reality is a major focus of the entire industry right now and sits at the intersection of multiple entertainment media including games, film, mobile and interactive experiences. It is a new medium and we are excited to work with our friends and partners as we explore the impact that this technology can have on storytelling and engagement. This has deep synergy with our ongoing efforts at MAGIC Spell Studios."
According to Phelps, the virtual reality/augmented reality lab is available to partners across campus and will have new equipment each month including major platforms from Oculus/Facebook, HTC/Valve, Microsoft, Samsung and others. Phelps also says that "homebrew" kits are in development with Center for Media, Arts, Games, Interaction and Creativity (MAGIC) affiliates and RIT professors Ron Vullo and Joe Giegel, and RIT alumni are employed at several major virtual reality platform manufacturers including Oculus and Valve.
"Virtual/augment reality sits right at the collision of games and film, with deep synergy to the MAGIC Spell Studios effort," added Phelps.
The announcement was made March 15 at the 2016 Game Developers Conference in San Francisco, which emphasized virtual reality technology.
Established in 1999, Crytek has created multiple award-winning titles, including the original Far Cry, the Crysis series, Ryse: Son of Rome, and Warface.
"It has been exciting to see the level of interest VR First has attracted from technology leaders and universities around the world since the initiative launched less than two months ago," said Ferhan Özkan, senior business development manager, Partnerships and Alliances at Crytek. "Now we are much closer to our goal of forming a global virtual reality community and we're grateful to everyone who has committed to coming on board so far. We believe this speaks volumes about the shared vision our partners have for investing in the transformative potential of VR."
RIT's game design and development program was recently ranked third at the undergraduate level and seventh at the graduate level according to the new 2016 international rankings from The Princeton Review.