Making music on a printed ukulele
Students use 3-D print technology to design musical instruments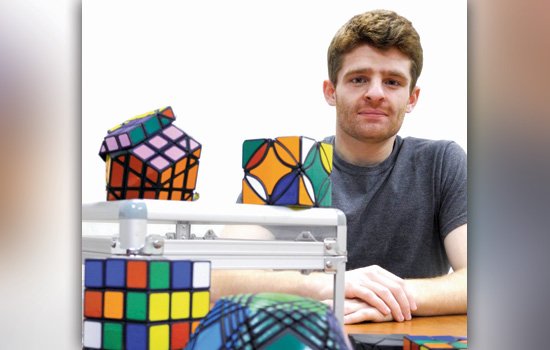 Supplied photo
It takes nearly four years for Hawaiian 
artisans to craft a koa wood ukulele. 
Three RIT engineering students crafted theirs overnight.

Traditional ukuleles, usually 12 to 18 inches in length, are designed with aged koa, shaped and formed by hand and polished to show off fine wood grains. Palm trees and hula come to mind after just a few strums of the strings. 

Betsy Khol, Jeet Mehta and Joe Noble came pretty close to that feeling. They set down layer upon layer of thin-plastic filament to print a version of the familiar Hawaiian instrument, part of a project in Denis Cormier's Rapid Prototyping class. The engineering professor's assignment, while whimsical, was to build an orchestra, taking advantage of state-of-the-art rapid prototyping and 3-D printing equipment 
in RIT's Brinkman Lab. 

"Our goal was to have something that was just one piece, so that there was no 
assembly required. Because it was so small to begin with, we could scale it to a size of the true instrument and hope that it would still play," says Khol, an industrial and 
systems engineering student. 

Rapid prototyping and the use of print terminology are often confusing to people new to the process, says Khol, from Vienna, Va. Most are familiar with the process of printing onto paper. In rapid prototyping, sometimes referred to as additive manu­facturing, the general idea of printing 
remains the same, but the materials used and the products produced are different.

Khol's team used a computer-aided design program to first scale an electronic image 
of the ukulele and input the specifications into the 3-D printer. Using nano-ink, 
plastic in very fine particles, the layering process began. About midway, they changed the cartridge of black nano-ink for orange to produce the Tiger image on the face of the ukulele. The next day, they added four strings, frets and tuning pegs. 

"You can make more complex geometries on this kind of machine because it does not require tooling, you are just layering plastic or powder," says Khol. "You can even make things with moving parts."

Cormier's students are learning first-hand the capabilities of today's 3-D printers to build electronic devices such as sensors, touch screens and biomedical devices. 

"As of now there are a few limitations to rapid prototyping, such as the metals it can use, the smallest feature size it can produce, but the technology is evolving," says Mehta. A graduate engineering student from Mumbai, India, Mehta wants to be 
a product designer and development 
engineer after graduation, and exposure to the cutting-edge technology is something employers are expecting of new hires. 

"The 3-D printing process is almost 
magical in a way for someone who hasn't been introduced to it," he says. "There are so many different facets to it—printed electronics, biomedical devices—competing with conventional manufacturing technology, which it is soon going to overtake one day."

While this was not Julliard or the Eastman School of Music, the RIT students' project grades were determined by a performance featuring their printed instruments. Noble serenaded his classmates with a four-string rendition of "Jingle Bells," and the team received applause and an "A" for the 
performance.
Web extra: 
To see a video of the Brinkman Lab and the 3-D applications and additive manufacturing equipment, go to the RIT University News YouTube channel at 
www.youtube.com/RITUniversityNews and search for "RIT Printed Ukulele."