Managing disasters
Student researcher sees firsthand the importance of emergency planning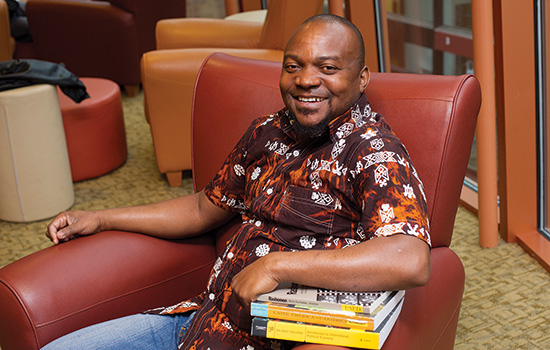 A. Sue Weisler
Sam Rinaldo could not have timed his research better. What better way to assess the effectiveness of emergency planning than in the aftermath of a major hurricane? 

Rinaldo, a fourth-year civil engineering technology student, spent the summer working on a research project to develop a model emergency preparedness and recovery system for cities. By mid-fall, he was in New York, one of the cities hit hardest by Hurricane Sandy, with his Navy Reserve unit supporting recovery efforts. 

He saw how ideal plans can sometimes align with the reality of emergency situations.

Several months earlier, Rinaldo was 
wearing his student-researcher hat. 
Working with Professor Jennifer Schneider on her grant-funded project for the Department of Homeland Security, he was inputting information into the Automated Critical Asset Management System, a statewide database of emergency preparedness resources. Large cities like New York have resources in the event of emergencies 
and natural disasters; small and midsize 
cities often compete for financial support. The database provides responders with a comprehensive accounting of available resources and outlines responsibilities.

Rinaldo also worked on several sub-
projects, detailing Rochester's storm surge areas and assessing power-grid transmissions, not realizing that within a matter 
of weeks he'd be spending his time shoring up parts of Manhattan, Brooklyn, Battery Park and Staten Island. 

"I've never been in a hurricane before," he says. "It was amazing to see. Everything came to a grinding halt." 

He helped distribute food and gas, 
provided security in areas, and in Staten Island, he searched apartment complexes to locate elderly stranded after the storm. Homes and buildings were without 
electricity, gas stations rationed gas if they could even get the pumps working with 
generators. The Coast Guard had closed 
the Port of New York, not allowing any 
shipping, including oil tankers, because 
the debris from the storm could damage 
the ships. But even in the face of severe 
damage all around him, Rinaldo saw 
residents pulling for each other. 

"They had no power and Home Depot 
is running on a generator, and they are 
buying all sorts of materials to help send 
out to other parts of the city," says Rinaldo, 
a Brighton resident who has been with 
the Navy Reserve for nearly 2½ years. 

Rinaldo spends several weekends a year with the Reserves, available for call-ups should the need arise. He continues work 
on Schneider's research project and expects to graduate in 2014, but in the meantime is starting a student club, the Association of Civil and Environmental Professionals, for fellow students interested in the field. The club, awaiting charter approval from RIT Student Government, will have affiliate 
support from four professional organizations: the New York Water Environment Association, American Water Works Association, American Public Works Association and the Air and Waste Management Association.

"The research work with Dr. Jenn has a nice parallel with my civil engineering classes. I like it because of the variety, 
seeing how different aspects come together. I've been able to get a glimpse of it all," says Rinaldo. "And the Navy could have sent me to Afghanistan, but instead they sent me to New York City. I like this field and being able to help out people in America. I feel it is more relevant to the people here. I feel good about serving that way."