Marketing job gets alumnus out of a pickle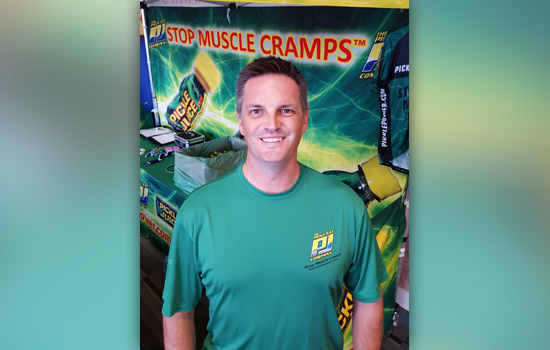 Filip Keuppens '99 (hotel and resort management) took his hospitality degree, combined it with his love of sports and found the perfect job.
He is vice president of global sales and marketing for The Pickle Juice Co., which produces a sports drink that is designed to stop muscle cramps and replenish electrolytes.
"Being able to help introduce a product to athletes that really helps and makes a difference while at the same time is 100 percent natural and healthy—that's the most rewarding thing about this job," Keuppens said, adding that the company gets emails and calls several times a week from athletes who found that the drink improved their performance.
In the past two years, the Dallas-based company has partnered with the Tour de France and the AMGEN Tour of California, started a division in Australia and secured distribution in Mexico.
Keuppens, who has been with the company since June 2015, is responsible for identifying expansion opportunities internationally and domestically.
Since graduating from RIT, he has spent his career in sales, first for H.J. Heinz Co., followed by Warner Home Video and 20th Century Fox, where he was selling DVDs to retail and was looking for a new opportunity.
"People say, 'why did you leave?' I say, 'when was the last time you bought a DVD,'" he said. He heard about The Pickle Juice marketing job opening through mutual acquaintances and was intrigued.
At RIT he was a rugby player and a captain of the team. After college, he continued to play, competing in the 2007 Touch Rugby World Cup competition for the United States. Last year, Keuppens took a job coaching rugby at the University of Dallas.
The Pickle Juice Co. job seemed like the perfect way to combine his interest in the food and beverage industry with his sports background, he said. He likes that he is with a company that is on the forefront of pioneering a new category in sports nutrition.
The product is manufactured specifically for alleviating muscle cramps and aiding hydration. The acetic acid in the vinegar engages the same neuroreceptors that cause muscle cramps, overwhelming the neurological system with information and preventing the cramp signals from getting through, Keuppens explained. The pickle flavor has to be there for the product to work.
"I joke with people we could call it Cramp Killer 9000 if we wanted and people would drink it and say, 'yup, that's pickle juice,'" he said.
To learn more
Go to www.picklepower.com.