Martha Morgan: The future lies in studying yesterday's trash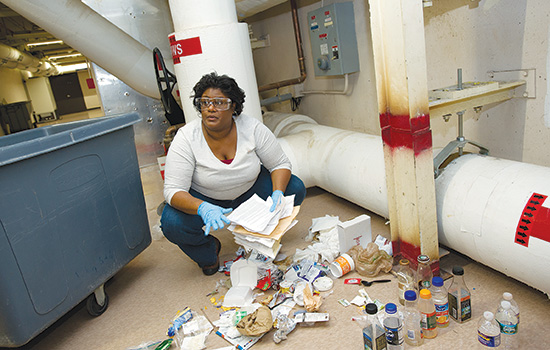 A. Sue Weisler
Martha Morgan believes that one man's trash is another man's treasure. In fact, Morgan, assistant professor of archaeology in the College of Liberal Arts, has 
focused much of her career studying 
just how meaningful garbage is to 
modern society, while at the same time 
answering important questions about 
cultures, habits and sustainability.

Garbage archaeology was introduced 
by William Rathje, a former anthropology professor from the University of Arizona— and one of Morgan's mentors. Throughout his graduate seminar, Rathje taught Morgan and his other students how 
studying refuse can lead to a greater 
understanding of their behaviors and 
societal engagement and to positive 
lifestyle changes.

Today, Morgan has passed on those 
same messages to her students and impresses upon them the importance 
of studying consumption, waste and 
recycling, and the impact this has on 
individuals and societies.

"From an archaeological standpoint, 
garbage archaeology helps us solve 
mysteries like who was living here, what habits they had, what their lifestyles were like, and what they threw away and why," she says. "In fact, 99 percent of what 
archaeologists study is garbage—
or what's been left behind."

Throughout her course, Morgan asks 
her students to collect every ounce of their personal garbage for a one-week period. And she means everything—from used 
tissues to potato chip bags to unfinished pizza slices and soda pop. At the end of the week, students bring their trash to class 
to sort and catalogue every single item. 

"The point of this exercise is for them to take a hard look at what they consume, use—and waste—over the course of one week," she explains. "When this exercise 
is completed, most, if not all, of my students realize that they can modify their 
behaviors in some way. Whether it's by limiting their food and beverage intake to eliminate some of the waste or through the realization of how much money they've spent at Starbucks in seven days, my 
students are genuinely surprised by 
how much they waste and how little 
they actually recycle. In essence, archaeology is based on what people really do versus what they say they do."

Morgan acknowledges that there is 
a definite trend in studying garbage. 
She points to documentaries like Waste Land and Garbage Dreams that tell stories of the exorbitant amount of garbage that is created. She also notes that in the 1950s, there was a culture shift that enabled many products to become disposable. Today, 90 percent of what we produce ends up as 
garbage, she says. 

In addition to classroom lectures, Morgan takes her classes to the Monroe County Recycling Facility on Lee Road in Rochester to gain a greater understanding of what happens after garbage and recyclables are hauled away. 

"People measure garbage using weight and volume, but these measurements don't shed light onto what is being recycled," Morgan says. "As a result, only 25 percent of the total garbage accumulated by the United States is actually being recycled and obviously, there are global implications due to this behavior."

Ultimately, Morgan hopes her lessons will teach her students how to be mindful of recycling and how much is consumed or tossed into landfills. 

"We have to be in the mindset to maintain living a 'green' lifestyle. There is no 'Planet B,'" Morgan warns. "This is the only Earth we will ever have."