Massimo Vignelli, icon of design, dead at 83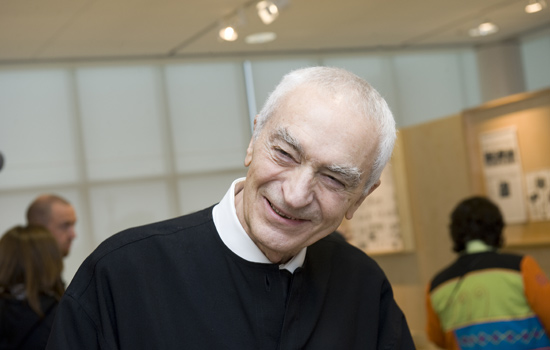 A. Sue Weisler
Updated at 3:05 p.m. May 27
Massimo Vignelli, arguably the greatest designer in modern history and whose Vignelli Center for Design Studies placed Rochester Institute of Technology onto the international forefront of design studies, died in Manhattan on May 27 after a long illness. Mr. Vignelli, whose influence spanned from package design to houseware design and from furniture design to public signage, was 83.
In 2010, Massimo and Lella Vignelli donated their extensive career archive to RIT, where the collection is permanently archived as the major resource at the Vignelli Center for Design Studies. The center's goals are to advocate design excellence at RIT and beyond through innovative programming, supported by extensive archived holdings of design exemplars.
Fiercely devoted to the Modernist tradition, Mr. Vignelli's designs focused on simplicity through the use of basic geometric forms in all his work.
"We are grateful to have Massimo's archives so that we may help with his legacy through the education of students and visitors to the Vignelli Center here on the Rochester Institute of Technology campus," said Lorraine Justice, dean of the College of Imaging Arts and Sciences.
R. Roger Remington, RIT's Vignelli Distinguished Professor of Design, said the design world has lost an icon.
"We are deeply saddened to learn of the passing of our great friend, Massimo Vignelli," Remington said. "As we move forward at the Vignelli Center for Design Studies, our task is to extend his legacy of excellence in everything we accomplish. We remember Massimo as a wonderful colleague and teacher. He was beloved by his students. His advice to them was: 'If you design it right, it will last forever.' "
The Vignellis were honorary trustees of RIT when they donated their extensive career archive. The collection is the major resource at the Vignelli Center for Design Studies. The archive, building and programming serve as a permanent remembrance of this master of design.
The center features an archive of the Vignellis' design work over their 40-year career, along with an extensive collection of original source materials, serving as an international resource and is accessible for study. In addition to the archive storage areas, the nearly 19,000-square-foot Vignelli Center also houses offices and the Benetton Gallery, which features "Design is One," an exhibit comprised of select pieces from the Vignelli collection.
"It is our dream that the center will foster studies related to Modernist Masters, exhibitions on their work and other related subjects," Mr. Vignelli said at the center's opening in 2010. "The center elevates RIT and positions the university on the international forefront of design studies. Lella and I are delighted to see our dream take shape."
The center serves as a hub for design education, scholarship and research, expanding the scope of the programs offered through RIT's School of Design. The school offers degree programs in graphic design, industrial design, interior design, new media design and imaging and computer graphics design.
"Massimo Vignelli was one of the great Italian design masters who had a major impact on the graphic and industrial design industries," Justice said. "From major corporate identities to the famous New York City Subway map to sleek iconic furniture, Massimo's legacy has depth and breadth that will carry on to influence other designers."
Born in Milan, Italy, in 1931, Mr. Vignelli studied architecture in Milan and Venice between 1950 and 1953.
He married Elena Valle (Lella), also an architect, in 1957 and together established the Vignelli Office of Design and Architecture in Milan in 1960. Feeling the powerful influence from the nearby Swiss, the city of Milan was a dynamic graphic design environment. Mr. Vignelli expanded his professional interests from architecture to graphic design. Max Huber was an especially important influence. By 1965, having emigrated to the United States, he co-founded Unimark International Corporation, and then, in 1971, with Lella, he opened Vignelli Associates. Vignelli Designs followed later in 1978.
Many of his landmark projects are now archetypes in the history of design – namely the corporate-identity program for American Airlines (1967), the graphics program for the United States National Park Service (1977), the design of St. Peter's Church in New York (1977) and the original subway map for New York Metropolitan Transportation Authority (1970).
His speaking and writing helped spread his Modernist aesthetic through a series of books, particularly design: vignelli (1990), Lella and Massimo Vignelli: Design is One (2004), Vignelli: From A to Z (2007) and The Vignelli Canon (2010). Next month, RIT Press will publish Lella and Massimo Vignelli: Two Lives, One Vision, a book focusing not only on the Vignellis' work but on their lives, relationships, influences, and influence upon many others since their careers began in the 1950s.
The permanent collections of the Museum of Modern Art, the Metropolitan Museum of Art, the Brooklyn Museum, the Cooper-Hewitt Museum in New York, the Musee des Arts Decoratifs in Montreal and Die Neue Sammlung in Munich all include Vignelli design.
Mr. Vignelli received many awards, including an honorary doctorate from RIT in 2002, New York Art Directors Club Hall of Fame in 1982, AIGA Gold Medal, the first Presidential Design Award in 1975, and the Medalist Award from the Architectural League in 2010.
Exhibitions of Mr. Vignelli's work have been shown internationally. A major exhibit titled "Design: Vignelli" toured Europe between 1989 and 1993.
Professionally, he has provided leadership for the Alliance Graphique Internationale (AGI), the American Institute of Graphic Arts (AIGA) and The Architectural League.
Several feature-length films and videos have been produced documenting the Vignellis and their design work. Among these are works by John Jacobson, Roberto Guerra and Kathy Brew, whose latest video Design is One is soon to be released.
In addition to his wife, Lella, Mr. Vignelli is survived by his children, Luca and Valentina, and three grandchildren.
According to Justice, funeral arrangements are pending.