Meet dt ogilvie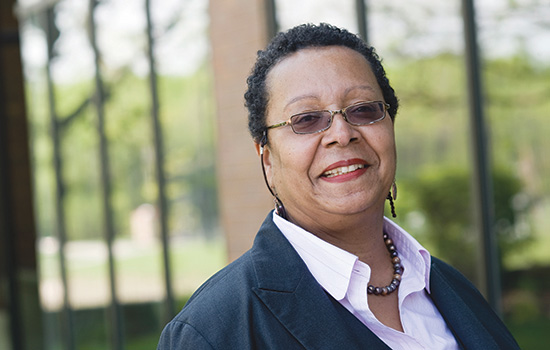 A. Sue Weisler
Professor dt ogilvie is the newly appointed dean of the E. Philip Saunders College of Business. She recently spoke with University News senior communication specialist Marcia Morphy about her vision of the college over the next several years and how her professional experiences have positioned her for this leadership role. 

Question: Why is your name in lowercase letters? 

Answer: It's lowercase on my birth certificate.

Q: Have you owned a business and what lessons 
did you learn from being your own boss?

A: I owned a business manufacturing jewelry, I have a 
consulting business, and I have a real-estate business. 
When I was with The Southland Corp. (7-Eleven), it was like running my own business; I made career decisions 
every day. It takes work, effort and thought, but you can move nimbly to satisfy customers. At SLC, I defied standing operating procedures and standard business practices 
because I knew my customers and knew my business. 
As a result, I influenced corporate policy. I learned from 
real estate not to be greedy. It's better to work with a 
tenant or take a little less rent to keep a tenant than it 
is to have a vacancy for a month or more. 

Q: What are the greatest strengths you bring to RIT?

A: I am a collaborator. I like to bring people together to make something happen. I think strategically and I am a future thinker. 

Q: How do you define student success?

A: A successful student is someone who can think critically rather than just algorithmically, who is globally mature, who can accept that people are different and appreciate and learn from those differences, who can produce results and bring value-added to the job, and who with these abilities can start a company or create value for a company by 
solving problems. Finally, I think a successful student 
gives back to others, to society.

Q: What do you enjoy doing in your spare time? 

A: I like to read for leisure as opposed to reading for work, movies, playing board and card games, cooking, going to plays, hanging out. I used to ski and play tennis but my knees are shot. Although I can still hit the ball in tennis!

Q: If you could learn do to anything, what would it be? 

A: Play piano, fix computers, sky dive, build houses, 
be more creative, be a better teacher, be a better writer, 
be a better speaker.

Q: How many languages do you speak?

A: I speak a smattering of several languages; when I travel I try to speak the language enough to get around. In terms of formal study, it was Latin, German, French and Chinese. As I traveled, I learned Yoruba, Swahili, Greek, Czech, Hungarian, Xhosa (a click language), Spanish, Italian, Portuguese, Korean and Japanese.

Q: What countries have you visited?

A: Thirty-eight countries including Canada, Mexico, the British Isles, France, Italy, Germany, Finland, the Netherlands, Singapore, Kenya, Zimbabwe, Morocco, Vietnam, Taiwan, China, Hong Kong, Tibet, Macau, Costa Rica, Jamaica, Puerto Rico, the Bahamas and Australia. 

Q: Were there mentors who helped change 
the direction of your life?

A: I've been lucky, and Joel Hoffman and Frank Kitchen (both from SLC) are two early mentors who made a 
difference when I went into big corporate. Joel taught 
me to be more patient and Frank taught me not to plan 
my career but to take advantage of opportunities as they arose. Each job I had at Southland after the first job did not exist until I had it. I also had mentors from NANBPWC Inc., Corporate Women's Network and the National Coalition of 100 Black Women, among others. 

Q: How do you envision your role within the 
Rochester community?

A: I would like to help the community improve its economic situation and create wealth for community members.

Q: Do you have a strategic vision for the 
Saunders College five years from now? 

A: I'd like the Saunders College to be recognized as 
a world-class business college whose graduates are 
sought after because they creatively solve important 
problems and/or whose graduates create businesses
that make a difference in the world. We have all the 
ingredients at RIT; we just have to put them together 
in creative ways.