Meet Nancy Munson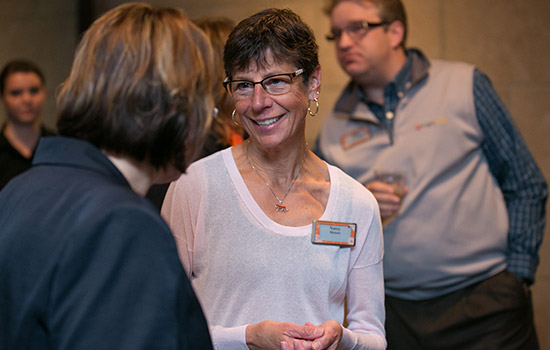 The wife of RIT's 10th president is passionate about helping others.
Nancy Munson began volunteering when she was a teenager and worked as a candy striper at a local hospital in Bryn Mawr, Pa. She received a BS/RN from the University of Delaware.
Then as a young mother in Illinois, she would visit a local nursing home with her 5-month-old son to spend time with the residents.
As her family grew, Munson became more creative about her volunteer activities. She used her nursing skills in a local hospital while auxiliary volunteers watched her four sons: David, Ryan, Mark and Jamie. In addition, she gave back to the auxiliary, serving as its fundraising chair and president.
In Michigan, she began working with a homeless shelter in its service center and clinic. Before leaving Michigan, she was working at a clinic for the underinsured and uninsured.
"Volunteering has always been important to me," she said.
Munson even ties her hobbies to helping others. The avid runner is participating in the Chicago Marathon in October on a team that is raising money for the Chad Tough Foundation. The foundation funds research and awareness for pediatric brain tumors.
That's why Munson will definitely be giving back to the Rochester community. She said she hopes to volunteer in the health care field, working with families. She also is looking forward to spending time with RIT students.
"I am very much a people person," she said. "I enjoy people and I enjoy working with people."