Microelectronic Engineering Conference Highlights Industry Trends and Student Research
Sematech program manager and RIT alumnus Tom Jefferson to be a featured speaker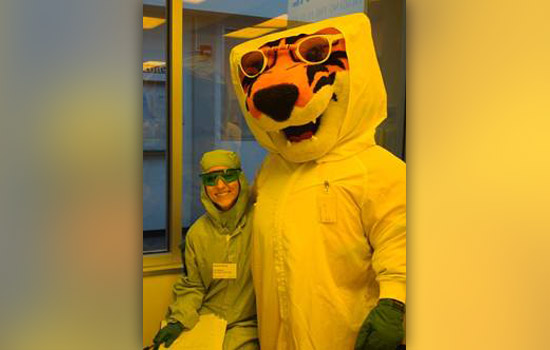 Implementation of advanced transistor structures, 3-D interconnects and novel electronic materials are some of the current trends in the microelectronic engineering field. These topics and others will be presented at the Rochester Institute of Technology Microelectronic Engineering Conference May 14-15.
An opening reception takes place at 6 p.m. May 14 at the RIT Inn & Conference Center. Conference presentations begin at 8:30 a.m. May 15 in Xerox Auditorium in Gleason Hall. The conference is free, and participants are asked to register by May 7.
The annual event, now in its 30th year, features presentations by industry professionals from prominent semiconductor and nanotechnology organizations. RIT engineering students, alumni and faculty from the microelectronic engineering program will give technical presentations throughout the day.
Invited speakers include Ravi Pillarisetty, senior device engineer, Intel Corp.; Mukta Farooq, senior technical staff and master inventor, IBM Semiconductor Research and Development Center; Tom Jefferson '94, 450mm program manager, ISMI-Sematech; and Alex Zaslvasky, professor of engineering and physics, Brown University.
When the conference was first established, it was a means to highlight student and faculty research projects, says Robert Pearson, director of the microelectronic engineering program. While it remains one of the mainstays, many of those early student-researchers have become leaders in some of the largest semiconductor companies in the country.
"This is more than a research conference. Our alumni are bringing information about the latest trends in the industry back to students that are poised to enter the semiconductor industry workforce after graduation," Pearson says. "Although we have been gathering for 30 years, every year, this is a new experience for our seniors."
More information about the conference schedule and directions can be found at the event website or by contacting Sara Widlund at 585-475-6065 or sdw4772@rit.edu.
Topics