Microsoft Research to Visit RIT for 'Just Press Play' Launch Oct. 13
Official kickoff includes remarks from key players at RIT and Microsoft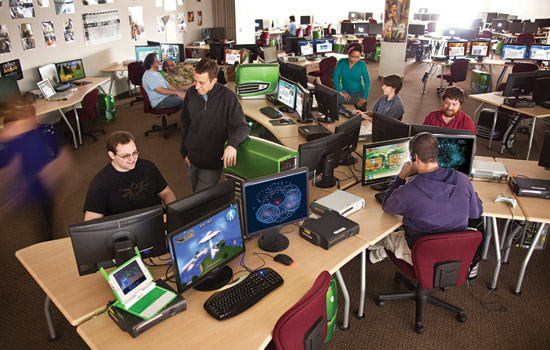 The initiative is all fun and games, but its ultimate goal is to help undergraduate college students navigate the barriers to academic and social success.
Representatives from Microsoft will visit the Rochester Institute of Technology campus on Oct. 13 for the launch of Just Press Play. The new game system, developed by RIT faculty, staff and students in the School of Interactive Games and Media, is made possible by the support of Microsoft Research Connections.
The kick-off event from 4 to 5:30 p.m. will allow students in RIT's School of Interactive Games and Media to become the first group eligible to play. In addition, officials from RIT, including RIT President Bill Destler, and Microsoft will share insights on this important initiative.
For more information regarding Just Press Play, go to the RIT University News website.

WHAT: Launch of Just Press Play
WHEN: 4– 5:30 p.m. Thursday, Oct. 13
WHERE: RIT's B. Thomas Golisano College of Computing and Information Sciences, Golisano Hall auditorium
WHO: Members of RIT and the School of Interactive Games and Media and Donald Brinkman of Microsoft Research Connections external relations
MEDIA PARKING: S Lot