Model Railroad president prepares for train show
Student Spotlight Matthew Glazer, fourth-year electrical engineering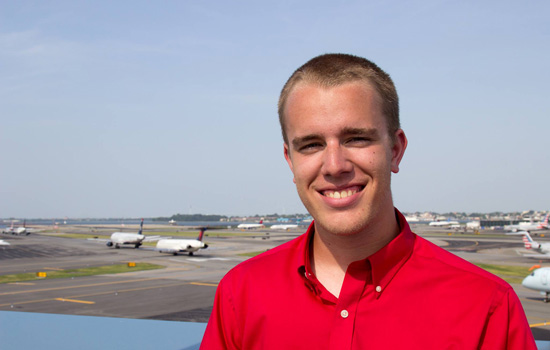 Photo provided
Matthew Glazer, president of the RIT Model Railroad Club, is helping vendors set up their railroad layouts for Rochester's largest toy train exhibit, the RIT Tiger Tracks Train Show and Sale. For the train show's 10th anniversary, Glazer has helped organized the display of several scenic layouts and approximately 100 train vendors. The club's layout will be featured as well. The Long Beach, N.Y., native is also a member of RIT Space Exploration (SPEX) and Electric Vehicle Team (EVT).
Question: What brought you to RIT?
Answer: My dad had mentioned RIT so I started looking into it. I liked the co-op program and the quarter system was interesting because my high school ran on a very similar system. I visited the school and really liked the campus. The RIT Model Railroad Club was a bonus too. It was my number one school so I applied for early decision.
Q: Why did you major in electrical engineering?
A: I started as a computer engineering major. I always liked computers and electronics. I was the kid who loved taking things apart. I chose computer engineering figuring I would learn both software and electronics but I didn't really like software so I switched my major to electrical engineering. I enjoy working on small projects and have built my own computer.
Q: Why did you join the RIT Model Railroad Club?
A: When I was younger, I had an interest in model railroads. My grandpa had a 4' x 8' table with a track that I would take apart and rebuild. I didn't do much with the hobby in high school so joining the club helped spark my interest in it again.
Q: What is the mission of the club?
A: Our mission is to preserve history of the railroads in Rochester and promote the hobby. For four years, we have been building a larger layout of railroads in Rochester and surrounding areas in our club room. We also help out with the Rochester & Genesee Valley Railroad Museum and host the RIT Tiger Tracks Train Show and Sale.
Q: What is the RIT Tiger Tracks Train Show and Sale?
A: The train show is our primary fundraiser so it's the main event for the club. This year is the show's 10th anniversary in the Field House. The show has approximately 100 vendors and several scenery layouts. The layouts displayed at the train show feature scaled down versions of real life scenes.
Q: How does the club plan for the event?
A: We begin planning in May and send out a mailing to our vendors. When the new school year begins, we start going to fall train shows and drop off fliers to new vendors we haven't talked to yet. In October, we start setting up the event with the school and contact the Field House. A few weeks before the event, we send out confirmation mailers to vendors.
Q: What do you hope people gain from the experience?
A: The show attracts every age group. Kids love looking at the layouts and following the trains around the tracks. For those interested in the hobby, it's a good opportunity to talk with vendors and see the new layouts. Last year 3,000 people attended the event.
Q: What are some of your fondest memories at RIT?
A: I enjoy running the RIT Model Railroad Club and working on projects with my engineering friends. My freshman year I started longboarding and my fourth year I built an electric longboard.
Q: After graduation, what are your plans?
A: I'm trying to get a job in the aerospace industry. The dream job would be working at SpaceX as a hardware design engineer.
The RIT Tiger Tracks Train Show and Sale runs from 10 a.m. to 5 p.m. Dec. 12 and 10 a.m. to 4 p.m. Dec. 13 in the Gordon Field House.
Traci Turner compiles "Student Spotlight" for University News. Contact her at trt6538@rit.edu with suggestions.