Model student beats cycle of drug addiction, homelessness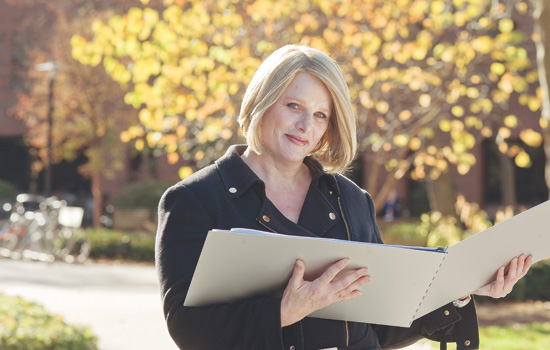 A. Sue Weisler
The road to redemption for Julianna Johnson led to RIT. 

Following years of drug addiction, living on the streets of Los Angeles and a stint in jail, the 48-year-old student has transformed her life. Open and candid about her past, she hopes that her story will inspire others to understand that sobriety is the best high.

"If I can open up people's minds to the idea of second chances, that's reason enough to share my story," says Johnson, a fourth-year graphic design major. "Secondly, if other addicts can experience the joy that I have right now, it's like no high I've ever had in my life. I have self-pride. I've never had that."

Celebrating five years of sobriety this past February, Johnson has a lot of joy in her life. She is planning to graduate in May while carrying a 4.0 grade-point average and taking seven classes a quarter. She has also won numerous national and university-level scholarships since transferring here in fall 2009 from Tompkins Cortland Community College. 

The American Association of Retired Persons (AARP) awarded Johnson with its National Foundation Women's Scholarship last year. It's typically a one-time $5,000 scholarship. With those funds, Johnson had enough to cover her remaining tuition costs for her first year and purchase a computer. Since starting at RIT, she has won the 
RIT Women's Council Scholarship, the Mowris Mulligan Scholarship and the Trustees Scholarship.

"I have to maintain a 4.0 because I feel like if I don't, I don't want it bad enough. If I was a 3.2 student, people would be like, 'Oh, she's doing pretty good.' Nobody is expecting me to be an outstanding undergraduate. Nobody is expecting me to be honored with all these awards and scholarships," she says.

After the AARP learned of Johnson's accomplishments, the organization decided to award her its national scholarship again. 

"It is only through all of this combined financial assistance that I have been provided the opportunity to realize my lifelong dream. Now I have a responsibility to myself and to all of these people that had faith in me to succeed."

One of the many people at RIT who has helped her succeed is Bruce Meader, professor of graphic design and Johnson's initial academic adviser. Johnson literally ran into Meader in the hall after she left one of her first classes because she didn't know how to use any of the Adobe programs that the professor was going over as a "refresher." 

Recalling the story still makes Johnson cry.

"Professor Meader said, 'Julianna, you have such great concepts. Don't worry about the program. Programs can be learned. Go back into that class. You belong there.'"

And she did. 

Adds Meader: "Life is tough enough, but for Julianna to have pulled herself back from a point in her life where her very survival was in question is something that most people wouldn't have the courage to do. When we all discovered what depths Julianna has risen from, her accomplishments were all the more admirable."

Martino Flynn, a Rochester advertising agency, has offered Johnson a freelance job that she hopes to begin in February. Following graduation, Johnson would like to move to the San Francisco area and work for an agency there. 

No matter what she decides to do, Johnson says her education has prepared her for the next chapter of her life.

"I am going to do amazing things in my life. Believe that."