More than 500 students expected to graduate from RIT's international campuses this spring
International business student Mislav Horvatic from RIT Croatia is among this year's top graduates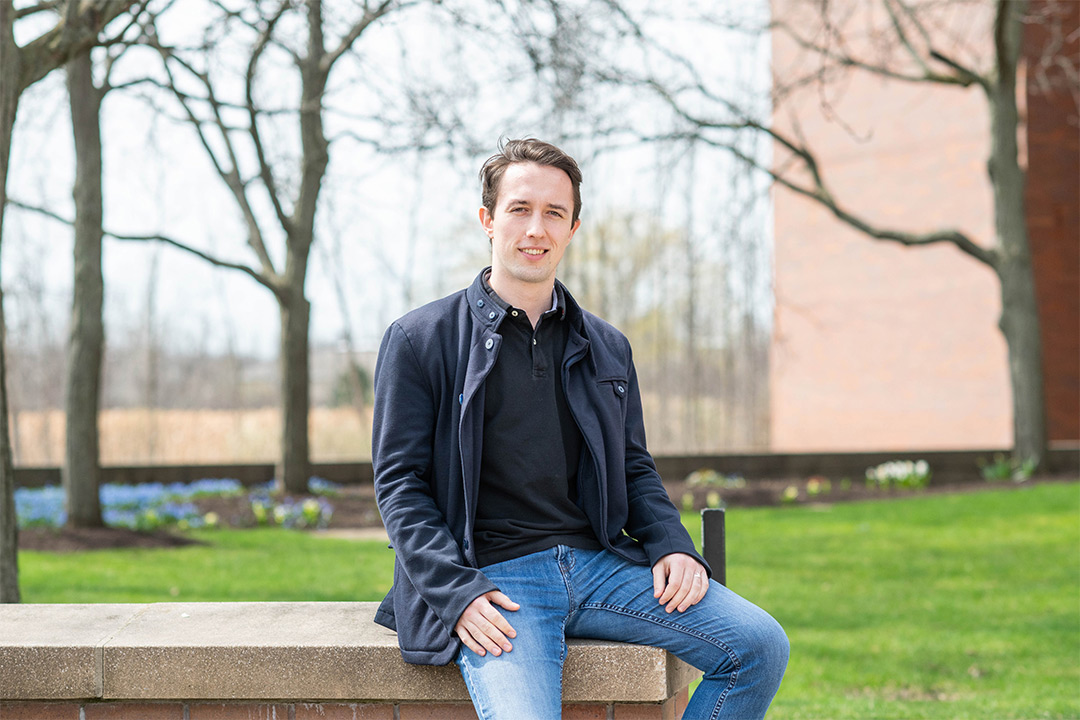 Gabrielle Plucknette-DeVito
Commencement weekend kicks off with Academic Convocation on May 10. Read more about the Class of 2019 at rit.edu/news/commencement-news.
This year, more students will graduate from RIT's international campuses than ever before. RIT's campuses in China, Croatia, Dubai and Kosovo are expected to award degrees to more than 500 students, up from 369 degrees granted in 2017-18.
Among this year's graduates will be Mislav Horvatic, an international business student from RIT Croatia who led an active life both in and out of the classroom. In addition to excelling at his studies, Horvatic developed a love for public speaking, was a member of RIT Croatia's Student Government, spent the last year studying abroad at RIT's Henrietta campus and founded RIT Croatia's Investment Club.
"If you want the best experience, you need to start a club, no matter what it is," said Horvatic. "I started the Investment Club in my sophomore year and I didn't know anything about investments, but I did it because I wanted to learn about the subject. By the time I went to my junior year taking senior-level finance classes, I had already taught some of that same material to the members in Investment Club. Personally, I always love to be ahead of the game and this forced me to achieve that. I left the club last year and it really makes me happy to see that it continues to operate, and I look forward to coming back to them as a guest lecturer at some point in the future."
After graduation, Horvatic is poised for a career in management consulting and will move to New York City to start his career as an executive recruiter at Objective Solutions International. But first, he will serve as the RIT Croatia commencement delegate for the ceremony at RIT's Henrietta campus on May 10.
Here is additional information about the graduation ceremonies taking place at RIT's global campuses:
RIT China
This year, RIT's campus in Weihei will celebrate its first commencement ceremony as it recognizes the initial class of students to earn B.S. degrees in management information systems. Courses are jointly offered by RIT's Saunders College of Business and the Beijing Jiaotong University (BJTU) School of Economics and Management, allowing student to earn a dual degree from RIT and BJTU. The ceremony at the campus in Weihai takes place Sunday, June 23, and will graduate 103 graduates. RIT China student Ms. Qinwei Zhang will be attending the RIT Commencement ceremonies this May as the student representative from the Weihai campus.
RIT Croatia
RIT Croatia will celebrate 190 graduates in May. The Dubrovnik campus commencement takes place Friday, May 17, at Rixos Libertas Dubrovnik. The keynote speaker will be RIT Croatia alumna Ines Nanic '04 (hospitality and tourism management), managing director and co-founder of Dubrovnik Event, a wedding and event design company.
The commencement ceremony in Zagreb occurs Saturday, May 18, at the Westin. RIT Croatia alumnus Marko Slunjski '04 (tourism, hospitality and service management), managing director of the energy service company Sense Esco, will deliver the keynote address.
RIT Dubai
RIT Dubai will celebrate its eighth commencement ceremony and 11th year as a university at the Grand Hyatt Dubai on Monday, May 20. The ceremony is under the patronage of HH Sheikh Ahmed Bin Saeed Al Maktoum, chairman and chief executive of Emirates Airlines and group chairman of Dubai Silicon Oasis. Approximately 125 students will receive degrees. Mechanical engineering student Ronald Noronha was selected as the RIT Dubai undergraduate delegate to attend the Rochester commencement ceremonies.
RIT Kosovo
RIT Kosovo's commencement ceremony is set for Wednesday, May 15, at the RIT Kosovo garden. The keynote speaker is Vllaznim Xhiha, co-founder of the Prishtina-based foundation Unë e du Kosovën, which encourages social development in Kosovo including establishing the first "Makerkids-Makerspace" in the Balkans in 2014. Two RIT Kosovo graduates earning bachelor's degrees in applied arts and sciences will attend the ceremonies in Rochester: undergraduate Anila Abazi and Dritero Bajrami, a Kosovo cadet and RIT Kosovo salutatorian.