Move-In Day at RIT
University welcomes freshman and transfer students to a new academic year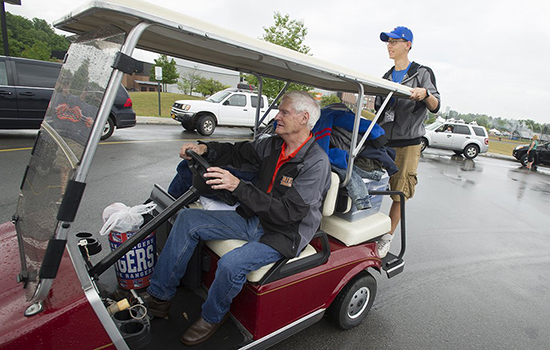 A. Sue Weisler
It's Move-In Day at Rochester Institute of Technology, as the university welcomes some 3,300 new undergraduates to the Henrietta campus, including freshmen and transfer students. Another 600 undergraduates are expected this fall to join RIT's international campuses in China, Croatia, Dubai and Kosovo.
This year's freshman class is expected to be about 2,660—smaller than last year's record class, but on par with previous years.
The freshman class hails from 47 states—plus the District of Columbia, Puerto Rico and the U.S. Virgin Islands—as well as 54 countries.
Quality as measured by GPA, rank in class and standardized tests reached all-time highs, said James Miller, senior vice president for Enrollment Management and Career Services. Miller said applications for freshman admission also set a record, surpassing the 2015 total by 7 percent.
Miller said 68 percent of the entering students are enrolled in majors in the STEM (science, technology, engineering and math) disciplines, in keeping the goal stated in the 2025 Strategic Plan that within 10 years, RIT will lead private U.S. universities in the number of STEM undergraduates enrolled and graduating.
The new academic year will kick off officially at 1:30 p.m. tomorrow with the annual Tiger Walk parade of students, followed by Convocation for New Students and Families at 2 p.m., featuring an academic procession; recognition of faculty; welcoming remarks by Sandra Johnson, senior vice president for Student Affairs, and Andrea Shaver, president of Student Government. Leslie Kate Wright, associate professor, Thomas H. Gosnell School of Life Sciences, College of Science, and a recipient of the 2015-2016 Eisenhart Award for Outstanding Teaching, will serve as keynote speaker.