New chair joins Saunders College with extensive study of social networks and organizations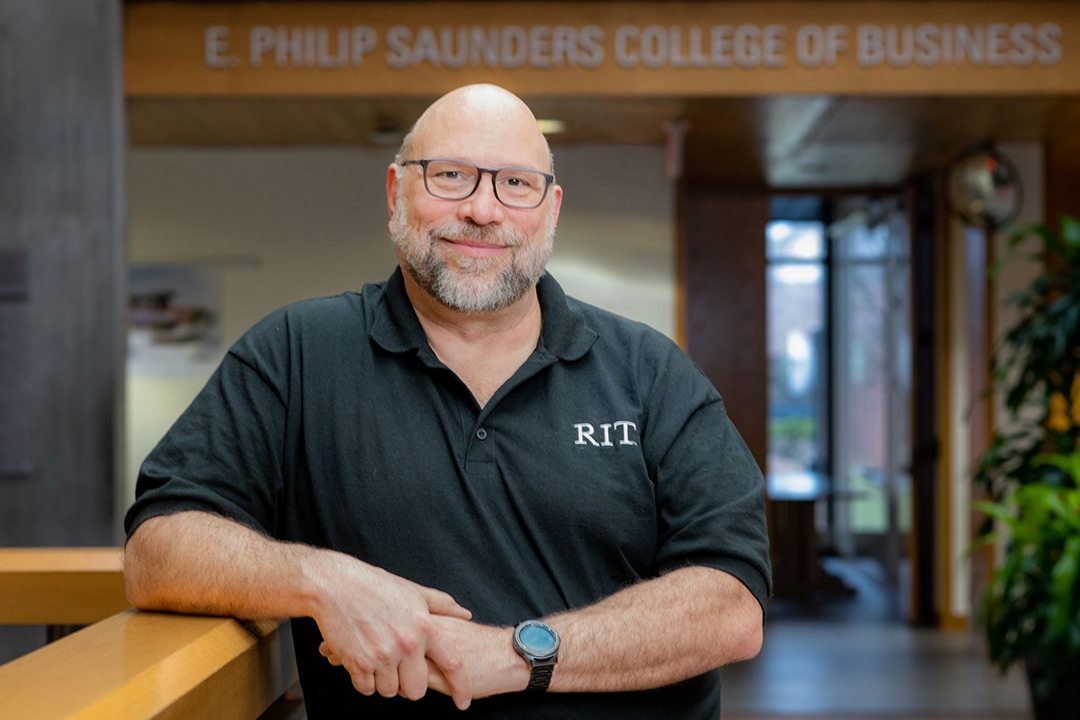 Rich DeJordy has "always been an academic at heart" even though no one in his family growing up worked in education.
"That may be why this is really my second career," DeJordy recalled. "I saw education as a career path later in life."
Today, that path has taken the Massachusetts native to RIT as chair of the Department of Management at Saunders College of Business. He comes to the university after serving in a similar role at the Craig School of Business at California State University, Fresno. Before that, DeJordy was a faculty member for eight years at D'Amore-McKim School of Business at Northeastern University. 
The new Saunders department chair has taught a wide range of courses across leadership, organizational behavior, and social networks—focusing his research on social networks and organizations.
His most recent study explored how Nicolas Hayek and Jean-Claude Biver synthesized two very different strategic responses to the so-called "Quartz Crisis" that faced the Swiss watchmaking industry in the latter half of the last century.
"It is not often you see two successful and strong-willed executives make room for each other," he said of his research. "The trust they develop is essential to being able to effectively capitalize on the true synthesis of diverse perspectives, which led to the resurgence of mechanical watches and the reemergence of Swiss watchmaking dominance."
His current research is an in-depth analysis of the emergence of an organization known as "Khaddit Beirut," which came together after a port blast in Beirut in 2020 to address longstanding institutional deficiencies plaguing the region.
DeJordy received his Ph.D. in organization studies from Boston College, where his dissertation explored the nexus of institutional forces at play in the creation of the Securities and Exchange Commission. His fervor for research has led him to be published in the top journals in his field, including Administrative Science Quarterly, Academy of Management Journal, and Organization Studies, among numerous other outlets. He also serves on several editorial boards and as an associate editor for Group & Organization Management.
Prior to earning his doctorate, DeJordy worked for almost two decades as an information technology professional, initially in academic computing for Boston College before moving to the American Mathematical Society, and finally serving as director of information services at The Boston Globe newspaper.
"My prior professional experience made all of my research topics very salient to me since I had seen them play out around me, so I was constantly intrigued," he said. "It also has led to a diverse vita when it comes to publications dealing with a wide range of topics, including stigma, identity, institutions, leadership, entrepreneurship, and networks."
DeJordy is particularly looking forward to helping Saunders launch the school's Ph.D. in business administration, which marks RIT's inaugural social sciences doctoral program. Beginning this fall, the program is designed to inspire and train scholars to identify, investigate, and solve unique business challenges that influence business and society, particularly those that are triggered by technological changes.
"Saunders is well positioned, I believe, to make an impact in our understanding of the nexus of strategy and technology broadly defined," said DeJordy, an avid kayaker who's also looking forward to taking in Rochester's rich arts and cultural scene. "Part of that will be by preparing the next generation of curious minds who will have important questions to ask—questions that will help shape our understanding of, and in fact, even how we inhabit—a world increasingly experienced through digital and technological modalities."
Topics