February 7, 2008
by Kelly Downs
New master's degree studies human-computer interaction
Relationship between 'man and machine' explored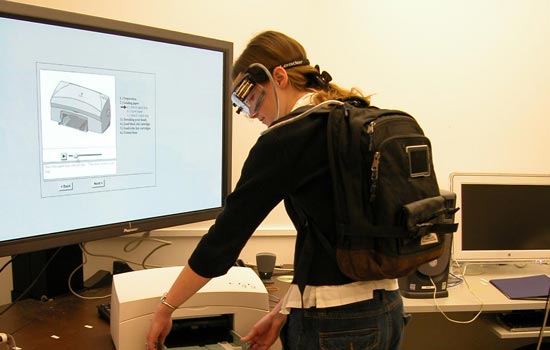 Human-computer interaction, the study of design, evaluation and implementation of interactive computing systems to benefit the end user, is the focus of a new Master of Science degree offered through the B. Thomas Golisano College of Computing and Information Sciences.
The degree is available either on-campus or online. "Companies such as Google, Yahoo, Adobe and Oracle are looking for people with in-depth knowledge and skills in developing computing systems that people will enjoy using and want to use," says Evelyn Rozanski, professor of information technology and a developer of the degree program. "Companies have come to recognize the return on investment from adopting user-centered design and usability testing practices. Products with poor usability are costly in terms of errors, unfinished tasks, frustration and even safety."
The curriculum for the degree includes studies in such complementary areas as software development, learning and knowledge management, cognitive psychology, industrial design and game design. RIT first offered a master's concentration in human-computer interaction more than five years ago.
Melissa Spike, a content producer at Fisher-Price, graduated from RIT in 2003 with an M.S. degree in information technology and concentrations in human-computer interaction as well as learning and performance technology and multimedia programming. "From my classes in human factors and interface design, I learned principles of design that apply directly to my current job at Fisher-Price," says Spike. "I work on some of the more complex toys with speech and multiple modes of play, kid-friendly electronic video games and personal computer software. With more and more computers in homes and so much competition with Web sites and software, consumers are starting to demand interfaces that are easier to use and industry is taking notice. This is only going to increase the need for graduates with degrees in human-computer interaction."
The degree requires completion of 52-credit hours and a capstone project in which research will be completed in university labs, including the Usability Testing Laboratory and labs within the Center for Advancing the Study of Cyberinfrastructure.
Topics