New program aims to strengthen race relations
YWCA, Rochester Area Foundation and RIT develop community-based program modeled after university's successful Partnerships in Pluralism initiative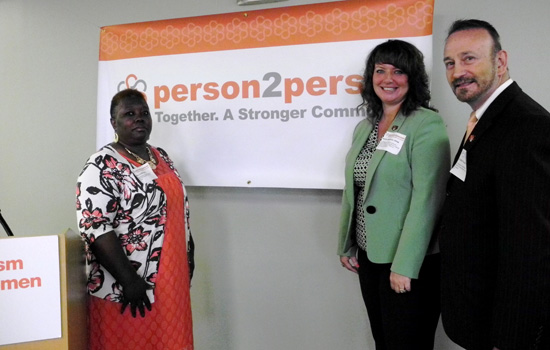 Michelle Cometa
What are people willing to do individually, or with others, to improve race relations?
Three community organizations are helping to answer that question with the launch of Person2Person, a structured experience that pairs Rochesterians from different racial and ethnic backgrounds to build relationships, and hopefully to set aside biases and increase interpersonal understanding.
"Poverty, housing, health and education are all linked to serious racial disparities in our Greater Rochester community," said Jean Carroll, president and CEO of the YWCA of Rochester and Monroe County. "These are daunting issues that require long-term solutions. Starting conversations among community leaders across racial and ethnic lines—the essence of Person2Person—can help create a better climate of discourse and interaction needed to face these challenges."
The YWCA of Rochester, the program leader, partnered with the Rochester Area Community Foundation, Rochester Business Alliance, Phinney Rankin Inc. and Rochester Institute of Technology to develop the program. It will begin in September with a group of people selected from local businesses, nonprofit organizations and varied industries to meet through formal and informal meetings and structured small and large group settings to begin conversations about race and personal experiences.
Person2Person is funded by a $133,500 grant from Rochester Area Community Foundation. The Rochester Business Alliance provided facility resources and acted as business community liaison; Phinney Rankin Inc. provided creative service and RIT led program development and training services.
Over the past three years, members of area businesses, universities and community organizations have worked to further diversity and inclusion efforts in Rochester supporting the YWCA's annual Stand Against Racism initiative, and the "RACE: Are We So Different?" exhibit in 2012 at the Rochester Museum and Science Center. Several working groups, specifically Facing Race, Embracing Equity and Unite Rochester, grew, intending to help build a more equitable living and working community.
Person2Person is another step in the ongoing focus on breaking through racial discrimination. An Advisory Council, which includes 20 high-level community leaders including Jennifer Leonard, president and CEO of the Rochester Area Community Foundation, and Kevin McDonald, vice president and associate provist for Diversity and Inclusion at RIT, will be recommending individuals for the first "class."
"It is said that differences in and of themselves fuel creative energy and insights," said McDonald. "They are the points of tension that spark alternative viewpoints and ideas, and they ignite kindling forces of creativity and innovation. They allow for this bantering about of intellectual insights. If you share those sentiments, then you are as elated as I am that the YWCA has once again meaningfully connected its mission to our community.
"RIT is thrilled to be a collaborative partner in this effort having had our own success with delivering a similar program called Partnerships in Pluralism. We look forward to the many contributions Person2Person will have in the Rochester community."
Aspects of the new Person2Person programming is based on RIT's Partnerships in Pluralism, a diversity-networking program launched in 2004 designed to improve RIT's climate by providing opportunities for building communication and trust among faculty and staff. More than 600 participants have gone through the program over the past 10 years. Mike D'Arcangelo, director of Diversity Education, and Sandra Whitmore, senior Director of Operations, Deputy Title IX Coordinator, Office for Diversity & Inclusion, RIT developed the Person2Person program and will provide training for program facilitators.
The 20 regional organizations joining the YWCA, RIT and the Rochester Area Community Foundation on the Person2Person program advisory board include representatives from the City of Rochester, WDKX-FM, Monroe County, the University of Rochester, Asbury First United Methodist Church, Monroe Community College, Colgate Rochester Crozer Divinity School, Action for a Better Community, Rochester Business Alliance, Nazareth College, Underberg & Kessler, the Jewish Federation of Greater Rochester, Paychex and Strategic Community Intervention.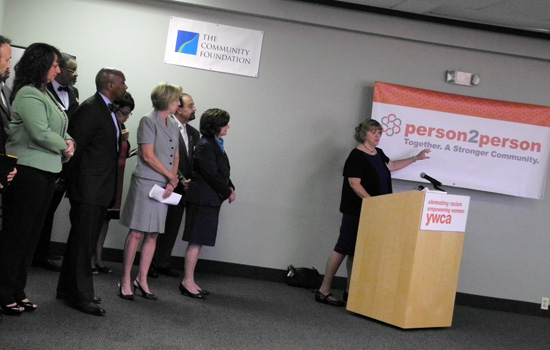 Michelle Cometa
Topics