New RIT students get a taste of performing arts options during orientation week
Nearly 200 Tigers learn dance, music, poetry and acting options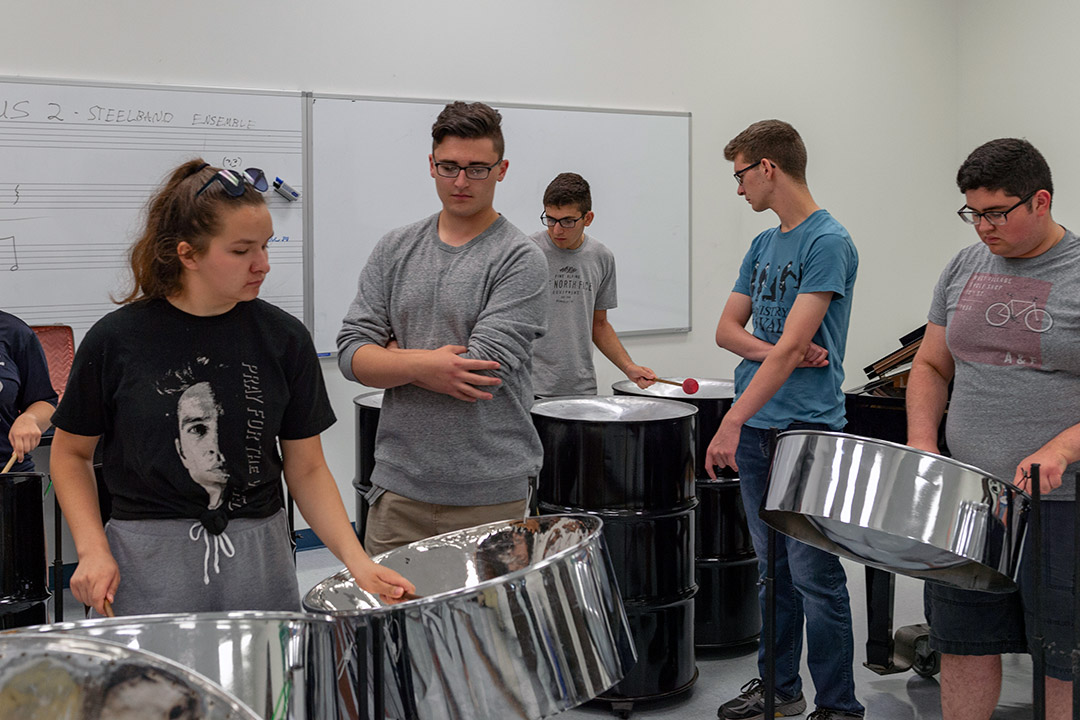 Chase Gunner
Josh Gudesblat, a first-year mechanical engineering student at Rochester Institute of Technology, has been drumming since elementary school. In high school, he was in the marching band, pit orchestra, concert and symphonic bands.
When he saw that RIT was offering an introductory class on steel drums during orientation week, he jumped at the chance to try them for the first time.
"I love percussion in general, the whole act of hitting things is very therapeutic and has always been my thing to do that relaxes me," he said. "So, I saw an opportunity to practice that in a new way."
Gudesblat, of Downington, Pa., was one of nearly 200 first-year students at RIT who got a taste of a few of the many performing arts options available to students, allowing them to sing, dance, play instruments or perform on stage.
"I wanted to use the bandwidth that orientation has to help the clubs market themselves," said Emily Gray, a fourth-year finance major from Shortsville, N.Y., and a member of the orientation student leadership team. "Students have a lot of passion for music, dance and art. We want to help them continue what they love to do."
RIT's strategic plan calls for the university to develop the leading performing arts program in the nation for non-majors. That goal was helped this year by awarding 150 new students interested in the arts scholarships of $500 to $2,000.
More than 1,000 students participate in RIT-recognized performance groups and activities each year, and 95 percent of them are enrolled in colleges other than Liberal Arts. Student performers come from all nine RIT colleges.
There are 27 theater, dance, music or other performing arts organizations on campus, including nine academic ensembles in the College of Liberal Arts and two choirs: the RIT Singers and RIT Gospel Ensemble. There are also seven a cappella groups on campus.
Since 2011, 438 RIT students have graduated with a minor, immersion or a certificate in a performing arts field.
During the steel drum class at orientation, more than a dozen students took turns playing chords. Ted Canning, an adjunct professor and percussion teacher, shouted out the notes as students hit the right spots which were marked.
"Always go back to F," Canning said. "Now C, E and G. And go back to F."
Within five minutes, the group was playing a tune, with Canning playing the melody.
"The secret to play faster is to play lighter," he said.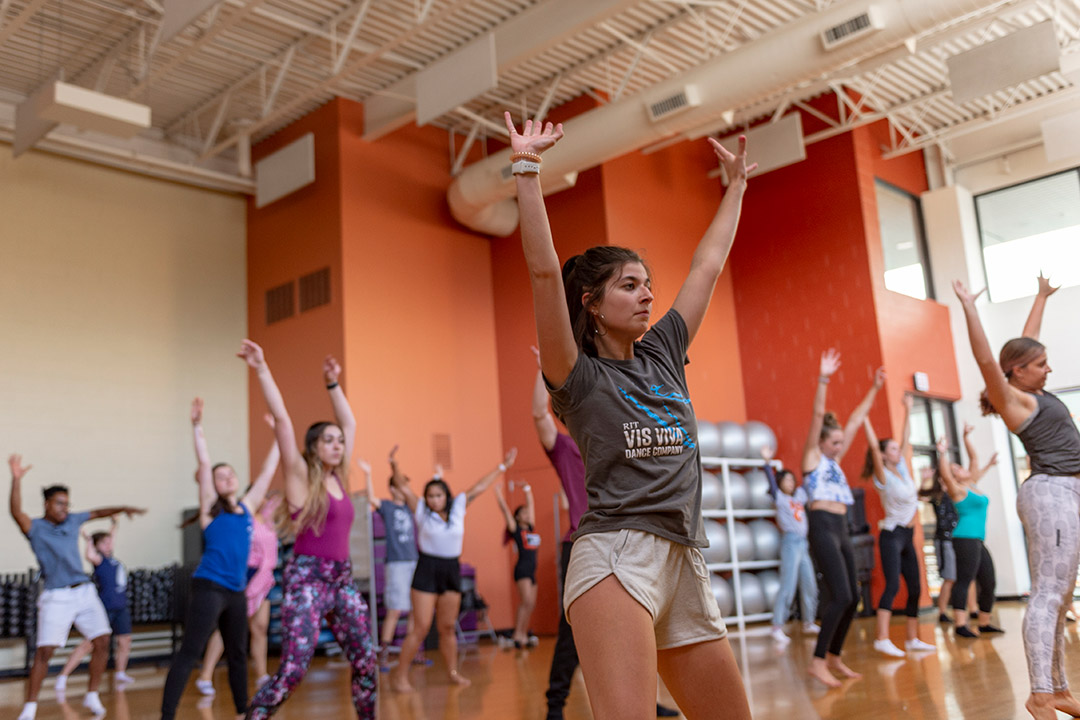 Chase Gunner
Monika Hocevar, a first-year industrial engineering major from Willoughby, Ohio, played the flute in high school, but never played steel drums before this weekend. She immediately sported a wide smile when she heard the harmonic notes fill the room.
"I heard about it from my friend and it sounded like a cool opportunity to continue my music in college. It's something I'm very passionate about," she said. "I wasn't expecting the range of chords. I'd love to take this class if I can."
After the session, Canning told students his class meets Tuesdays and Thursday afternoons, with a public performance at the end of the semester in the Fireside Lounge.
"They all did very well," he said. "I'm a true believer of STEAM when you add arts to STEM. There's loads of research that shows that arts will supplement science, technology, engineering and math. It helps with creative thinking, problem solving and benefits your brain by enabling you to do more complex tasks."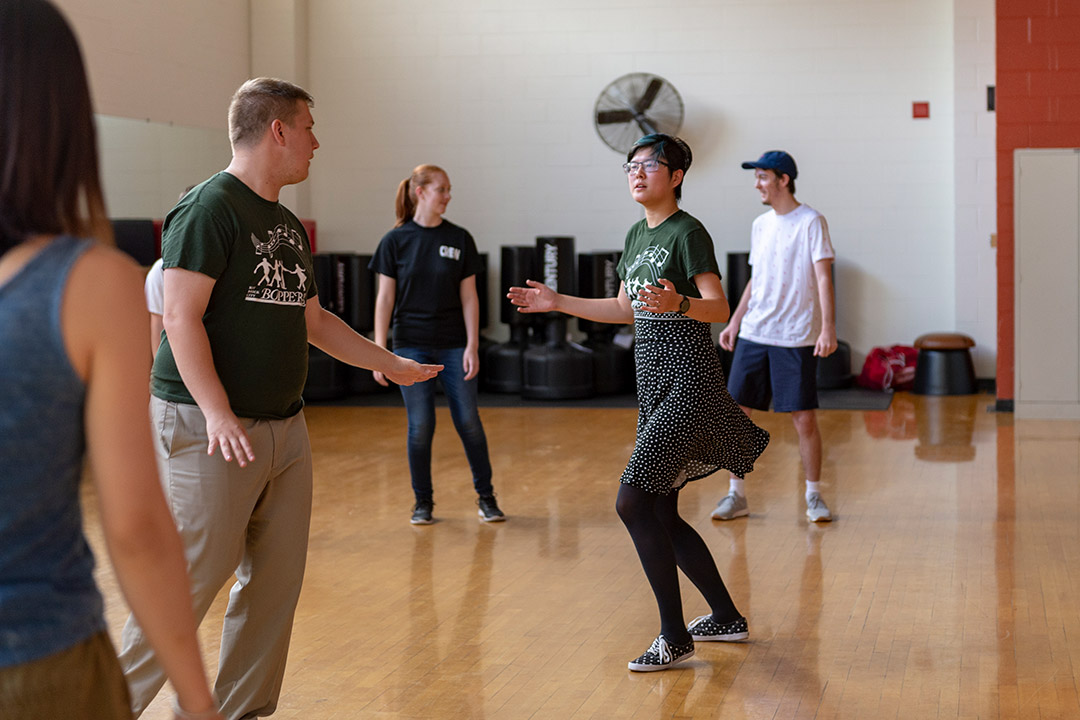 Chase Gunner
In a dance hall in the Hale-Andrews Student Life Center, members of the Brick City Boppers, a social swing dance club, were teaching students how to dance with their partners, including how to turn them around while still holding hands.
"You've got steps. You've got faster steps. And you've got shuffling steps," said Vanessa Yan, a fifth-year computer science major from Flushing, N.Y., who helped lead the session.
Myles Douglas, a first-year game design student from Latrobe, Pa., called the dance class "interesting" and said he'd think about joining. He then turned around and went back into the studio to check out the next dance class – his third of the day – offered by Vis Viva Dance Company.
Kelsie Fobarge, a second-year biomedical engineering student from Clifton Park, N.Y., is the programming officer for RIT Players, which also offered a workshop for students. The club typically has more than 60 members; about 20 are on stage for productions, and more work backstage in supporting roles.
"We welcome everybody who would feel comfortable with on-stage acting or being backstage, as long as they have a passion for it," she said.
Carolyn McGowan, a fourth-year biomedical science student from Geneva, N.Y., is president of Mental Graffiti, a slam poetry club. Visitors to their workshop were asked to remember an event from the summer and write about it.
"We're looking for anybody who wants to write to tell a story or who is looking for a community to belong in or to find a voice," she said.
For more information on the various performing arts options on campus, contact performingarts@rit.edu or go to campusgroups.rit.edu/clubs/clubs-organizations.