Not quite love at first sight for RIT couple
Brianna Schlitt '11, '13 (psychology, professional studies) and Brynjar Leifsson '11, '13 (multidisciplinary studies, deaf education) thought it was love at first sight when they met on the RIT campus in 2009. But they later learned they had attended the same elementary school, shared some of the same teachers and even ate lunch together there.
"People don't believe that we had met when we were little kids and then met again 15 years later," said Schlitt. "It's pretty surreal."
Schlitt and Leifsson were married on July 13 on Long Island, N.Y.
Schlitt was in kindergarten when she went to a school in East Meadow, N.Y., and Leifsson was in second grade. The two were from different parts of Long Island but at that time, Schlitt said, some of the deaf and hard-of-hearing children attended one school.
They were only together for one year. After kindergarten, Schlitt transitioned to the public school in her district.
Fast forward to 2009 and Schlitt decided she wanted to transfer to RIT after attending James Madison University and Long Island University Post. Leifsson had been a student at RIT since 2005.
Schlitt was visiting RIT and attended a party with a friend. Leifsson was there.
"How do you like somebody after meeting them for an hour?" Schlitt said. But when she ran into Leifsson again two days later, she knew she was smitten. So was Leifsson.
"I first saw her and I thought she is the one," he said. "But I didn't think it was possible. I can't get someone this beautiful."
They exchanged numbers and kept in touch over the summer before they were both on campus.
A year later they attended a meeting about deaf and hard-of-hearing services on Long Island and they ran into an audiologist who knew them both.
"She was like, 'How do you guys know each other. You were in the same school when you were little and I had both of you guys,'" Schlitt said. "She couldn't believe how life brought us back together."
The couple has been together ever since.
Leifsson works as an American Sign Language teacher on Long Island and Schlitt is a lawyer who will begin a job later this year as an attorney for the Legal Aid Society of Suffolk County.
Leifsson proposed on April 13, 2017, when they were visiting his native Iceland. He popped the question at the top of the Snaefellsjökull glacier overlooking the Atlantic Ocean.
"I had to go over the top," Leifsson said. "She had been waiting eight long years for me to propose. I had to make it amazing, and it's my favorite place to be."
"I was like, 'Oh my God, is it really happening?' Of course, I said, 'Yes,'" Schlitt said. "I couldn't believe it."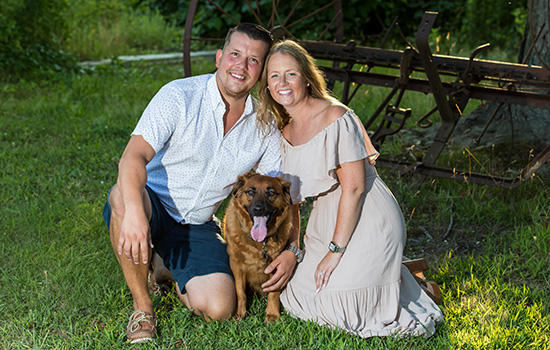 Topics