February 24, 2016
by Ellen Rosen
NSF director to deliver commencement address
A career educator and scientist, she leads an agency charged with advancing the nation's scientific discovery, technological innovation and STEM education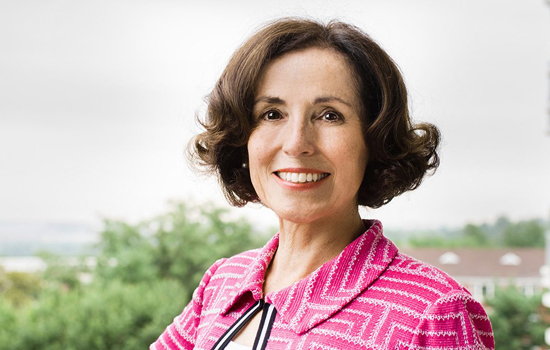 France A. Córdova, director of the National Science Foundation (NSF), will be the keynote speaker for Rochester Institute of Technology's 131st commencement celebration.
Córdova will speak at the Academic Convocation, set for noon May 20 in the Gordon Field House and Activities Center.
RIT President Bill Destler said the university is honored to have Córdova addressing its graduates.
"With a distinguished career as an academic and researcher, and now as champion of our nation's scientific endeavors, Director Córdova works to keep our country at the international forefront of science and engineering," Destler said. "That same goal is central to RIT's mission, so her message will surely be one that inspires our graduates and their families. We look forward to hosting her on campus for our commencement celebration."
Córdova was sworn in as the 14th director of NSF in 2014, following her nomination by President Barack Obama and confirmation by the U.S. Senate. Her appointment to NSF, a $7.5-billion independent federal agency, came after a prominent career in higher education and science.
Córdova, who has a doctorate in physics from the California Institute of Technology, served as president of Purdue University from 2007 to 2012. From 2002 to 2007, she led the University of California, Riverside, as chancellor and was a distinguished professor of physics and astronomy. Córdova was the vice chancellor for research and professor of physics at the University of California, Santa Barbara, from 1996 to 2002.
From 1993 to 1996, Córdova served as NASA's chief scientist. Prior to joining NASA, she was on the faculty of the Pennsylvania State University where she headed the department of astronomy and astrophysics from 1989 to 1993. Córdova was deputy group leader in the Earth and space sciences division at Los Alamos National Laboratory from 1988 to 1989 and staff scientist from 1979 to 1989.
More recently, Córdova served as chair of the Board of Regents of the Smithsonian Institution and on the board of trustees of Mayo Clinic. She also served as a member of the National Science Board (NSB), where she chaired the Committee on Strategy and Budget. As NSF director, she is an ex officio member of the NSB.
Córdova's scientific contributions have been in the areas of observational and experimental astrophysics, multi-spectral research on x-ray and gamma ray sources and space-borne instrumentation. She has published more than 150 scientific papers. She has been awarded several honorary doctorates, including ones from Purdue and Duke universities. She is a recipient of NASA's highest honor, the Distinguished Service Medal, and was recognized as a Kilby Laureate in 2000. The Kilby International Awards recognize extraordinary individuals who have made "significant contributions to society through science, technology, innovation, invention and education." Córdova was elected to the American Academy of Arts and Sciences and is a National Associate of the National Academies. She is also a fellow of the American Association for the Advancement of Science (AAAS) and the Association for Women In Science (AWIS).
At the Academic Convocation, Destler will confer degrees upon some 3,500 undergraduate and graduate students. The event kicks off RIT's two-day commencement celebration. For more information, go to the RIT commencement page on the university's website.
Topics