NTID audiologist earns Oticon Focus on People award
Catherine Clark honored for her work empowering people who are deaf, hard of hearing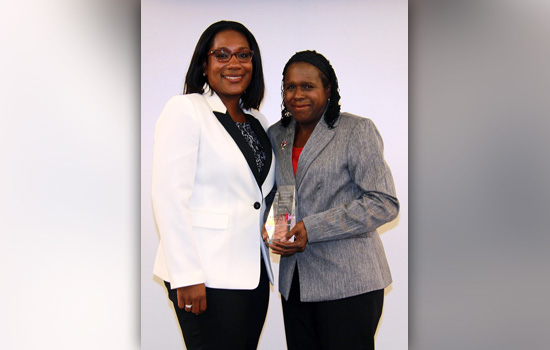 Catherine Clark, an audiologist and faculty member at Rochester Institute of Technology's National Technical Institute for the Deaf, is among the individuals honored by the 2016 Oticon Focus on People Awards, a national competition that celebrates people who are helping to eliminate negative stereotypes of what it means to be deaf or hard of hearing.
Clark earned first place in the Practitioner category and was honored Sept. 27 at a ceremony at Oticon Inc. U.S. headquarters in Somerset, N.J. More than 100 hearing-care professionals from across the United States attended the event. As part of her award, Clark has designated the nonprofit Visions Global Empowerment as her choice for a $1,000 donation from Oticon Inc.
People from across the country cast thousands of votes to help determine who among the 12 finalists would be the first, second and third place winners in the Adult, Student, Practitioner and Advocacy categories.
"Outstanding practitioners, like Dr. Clark, empower people who are deaf or hard of hearing to grow, to thrive and to reach their fullest potential," said Oticon President Peer Lauritsen. "At Oticon, we are deeply aware of the critical role of hearing-care professionals in helping patients to overcome challenges and accomplish goals well beyond what many thought possible. Dr. Clark's many contributions are opening doors of opportunity for all, but especially for deaf and hard-of-hearing people."
Clark has worked at NTID for 30 years. In addition to her work at RIT/NTID, she has provided free hearing screenings to the Urban Outreach Project and has served with the Rochester Black Deaf Advocates and the executive board of the Rochester School for the Deaf. She also volunteered as a Junior Achievement educator. In addition, Clark has published extensively and spoken at national and international conferences on inclusiveness, diversity and pluralism. She was recently honored by Visions Global Empowerment with the "Outstanding Dedication to Service" award for her service trips to Ethiopia where she provides audiological services and hearing aids to children and adults in Bahir Dar.
"We are all very proud of the great work that Dr. Clark does at RIT/NTID, in the community and throughout the world. Her contributions to enhance the inclusiveness of deaf and hard of hearing people are significant and it is wonderful to see her recognized in this way," said Gerry Buckley, NTID president and RIT vice president and dean.
The Oticon Focus on People Awards program was created in 1997 by Oticon Inc., one of the world's oldest and most respected hearing instrument manufacturers.