NTID presents Sherlock Holmes tale
Deaf and hard-of-hearing student production is adaptation of mystery tale 'Sign of the Four'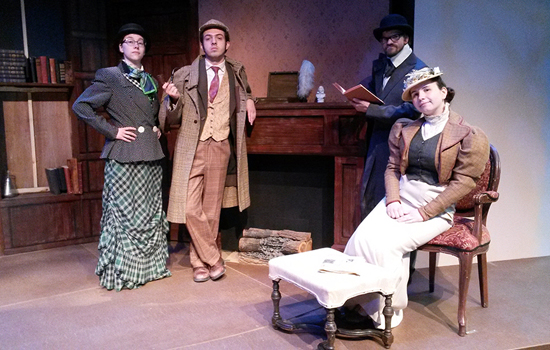 Later this week, National Technical Institute for the Deaf Performing Arts at Rochester Institute of Technology will debut its production of Sherlock Holmes and The Crucifer of Blood, written by Paul Giovanni. The play—an adaptation of Sir Arthur Conan Doyle's Sign of the Four—will be performed at NTID's Panara Theatre in Lyndon Baines Johnson Hall at 7:30 p.m. May 5 and 6; midnight on May 6; and 2 p.m. May 8.
The performance also marks an end to director Jerry Argetsinger's 41-year career at NTID.
The show opens in India, where a group of British soldiers has stolen a royal treasure and signed a blood oath to protect its secret. Thirty years later, in England, the men are murdered one at a time. The daughter of one soldier calls on famed British detective Sherlock Holmes to uncover the secret and the curse and track down the killer. The story moves from India to England's Baker Street to a sinister opium den to a boat on the Thames River—all leading to the eventual revelation of truth, revenge and guilt.
"This production is full of action including five murders, two suicides and five full set changes," said Argetsinger. "And since this is my last show at RIT, I wanted to select something that was full of excitement and intrigue. I read through about 15 scripts to find the perfect show; and this was it. Sherlock Holmes is always popular."
Tickets—$5 for full-time students, senior citizens and children, and $7 for everyone else—are available at the NTID Box Office, first floor of Lyndon Baines Johnson Hall. For more information, email ntidtix@rit.edu.
Topics