NTID professor addresses United Nations
Peter Hauser represented World Federation of the Deaf in Geneva, Switzerland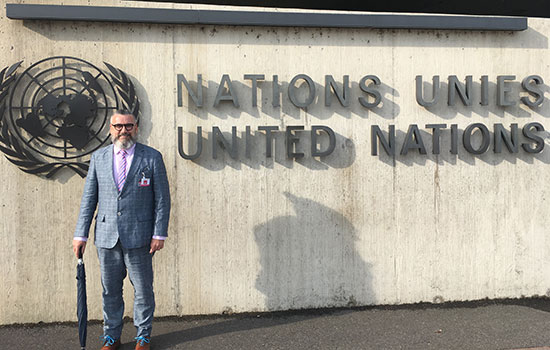 Deaf individuals are up to seven times more likely to experience cardiovascular disease, high blood pressure, diabetes and stroke due to the significant health disparity and knowledge gaps in preventative health, said Professor Peter Hauser, an expert on the long-term impact of deaf individuals' early language acquisition, at a United Nations conference this summer.
Hauser, director of the Center on Cognition and Language at Rochester Institute of Technology's National Technical Institute for the Deaf, delivered a report at a meeting of the United Nations Special Rapporteur on the Rights of Persons with Disabilities, in Geneva, Switzerland. The conference focused on the rights of persons with disabilities to the highest attainable standard of physical and mental health.
Through NTID's Center on Cognition and Language, Hauser and his team conduct research on cognitive, linguistic and socio-cultural factors to advance learning, well-being and health. The center has multi-institute collaborative projects funded by the U.S. National Institutes of Health on how deaf individuals learn health information, as well as deaf women's pregnancy and childbirth experiences. The center also conducts research that focus on deaf children's bilingual education and the importance of language for cognitive development.
Representing the World Federation of the Deaf at the United Nations conference, Hauser discussed the status of deaf individuals' health and access to health care and health information.
"Our studies demonstrate that this disparity is partially due to lack of or lower standards of deaf education, loss of incidental learning opportunities, and isolation," explained Hauser. "Health information needs to be accessible to deaf individuals around the world in their natural sign languages."
He explained how deaf health is related to education and the importance of facilitating the learning of sign language and the promotion of the linguistic identity of the deaf community.
"If deaf infants and toddlers are not provided their right to access to language early in life, then that language deprivation would effect their education, including health education, which then effects their health knowledge and literacy."
Hauser also stressed the need for more qualified sign language interpreters with training in health care interpreting; health care providers fluent in sign language; additional training for hearing health care providers on how to work with deaf co-workers, patients and their family members; and more opportunities for deaf individuals to obtain training in health care professions.
"Human rights violations have occurred where deaf individuals have been hospitalized without interpreters and medical treatment provided without informed consent because of the lack of communication access," he added. "Not only do deaf patients require access in health care settings, deaf parents and family members also have the right for access as well."
Hauser's report will be shared in September at the 73rd United National General Assembly in New York.
Topics