NTID student committed to serving community
Student Spotlight Susana Flores, fourth-year museum studies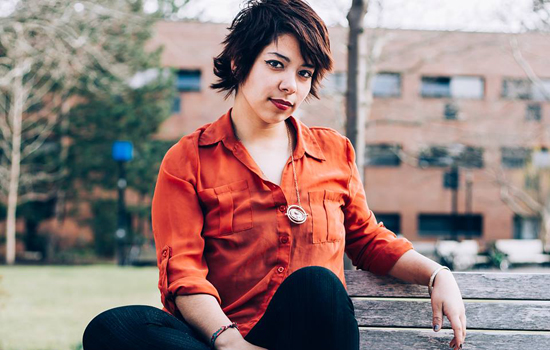 Susana Flores, a fourth-year museum studies student and community service director for the Latin American Deaf Club, is dedicated to helping others on and off campus and raising awareness for Latino culture. Flores, from Antioch, Calif., is the only deaf person in her family and the first to attend college. She found her place at the Latin American Deaf Club because of the support system it fosters. Organizing service projects with club members and collecting artwork for the Latinx Art Exhibit helped her develop leadership and teamwork skills. After graduation, she plans to pursue a master's degree and work for a museum.
Question: What brought you to RIT?
Answer: RIT/NTID is a wonderful school that provides great opportunities with accessibility and diversity. I learned about RIT when a NTID admission counselor traveled to my school and gave a special presentation to my high school. I attended the spring open house before I became a student in the fall.
Q: Why did you choose your major?
A: I always enjoyed art, history, science and philosophy. Museum studies consisted of all the hobbies I enjoyed. At the same time, museum studies was a new program under the College of Liberal Arts in 2010 so I took the opportunity when I learned about it.
Q: What are some goals you achieved at RIT?
A: I obtained an associate degree from the College of Liberal Arts. I was NTID's first Latina exhibitioner to host the Latinx Art Exhibit at Dyer Art Gallery last fall. As a Latina and a museum studies student, I had the experience to create the project for the Latin American Deaf Club's Hispanic heritage awareness event. The club and I worked together with the art gallery to collect, organize and label the Latinx artists and their artworks. Another one of my goals was helping the club become recognized under NTID Student Congress for its achievements with community service. I served as the president and I'm currently the community service director. My goals for the organization are to get involved with the community and help others. We have done several clothing and food drives, fundraised for Rochester's Breast Cancer Association and collaborated with other diverse clubs.
Q: How is NTID your second home?
A: NTID became my second home when I discovered myself at RIT. When I first arrived, I knew no one and was already overwhelmed with the diversity here. After few months, I made new friends and made it on the Dean's List. After my first year, I decided to join Latin American Deaf Club and realized that it had something that reminded me of home. It was the members' family-oriented attitude that encouraged me to stay here especially during times when I was homesick.
Q: How has being a member of the Latin American Deaf Club helped you grow as a student?
A: Latin American Deaf Club has helped me shape into a mature and strong woman. Working with the team for five years has helped me become more patient. I think more as a leader and act as a team member. The experience itself was very enriching and important to me.
Q: Why is volunteering for the community important to you?
A: Volunteering for the RIT and Rochester community is very important to me and to other students because it helps us prepare and practice our communication and organization skills for reality after college.
Q: What does it mean for you to be the first one in your family to graduate from college?
A: It is truly an honor and a responsibility for me to carry out and establish a better role model for my younger family members to follow if they choose to continue their education too.
Q: What advice would you give first-generation students?
A: My advice to first-generation students is to stay ambitious, determined and keep an open mind. Try new opportunities, gain experiences and build new points of view. Always keep building bridges with new networks for after-college and future use.
Q: After you graduate, what are your plans?
A: My plans are to stay in school for another two years to earn a master's degree. Then my goal is to get a job with a museum institute and build my work experience. I also want to travel to Europe to learn more about deaf history and deaf studies.