NTID's Rosica Hall wins Design Excellence Award
Honor presented June 12 by Rochester chapter of American Institute of Architects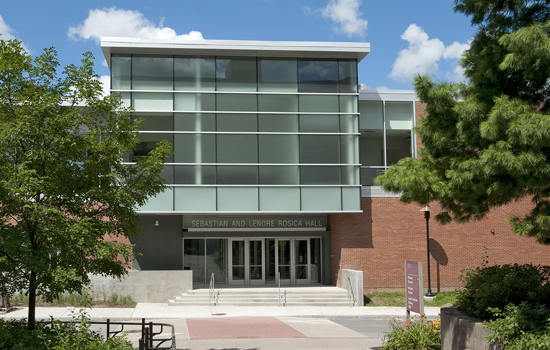 Mark Benjamin/NTID
Sebastian and Lenore Rosica Hall at Rochester Institute of Technology's National Technical Institute for the Deaf and HBT Architects—the firm responsible for the building's design—were recognized by the American Institute of Architects' Rochester chapter as a 2015 design award recipient. The AIA Design Excellence Awards—held June 12 at Rochester's Memorial Art Gallery—encourage excellence in architectural design, increase public awareness of the human-made environment and honor the architects, owners and builders of significant projects.
Rosica Hall, an $8 million, two-story, 23,000-square-foot building, officially opened in October 2013 and is devoted to innovation and research for students, faculty and staff of NTID and RIT. It was designed to be deaf-friendly, incorporating a maximum use of
natural light, open line-of-sight paths, safety features such as strobe lights, and minimalizing vibrations from the building's air conditioning and heating units.
At the building dedication in 2013, Mark Rosica, chair of NTID's Counseling and Academic Advising Services and a son of Sebastian and Lenore Rosica, said, "The building was specially designed to enhance the learning and discovery of our deaf and hard-of-hearing students and is an outstanding facility that will help to level the playing field by providing a variety of research opportunities for our students."
Added James DeCaro, NTID professor and dean emeritus: "Rosica Hall is aesthetically pleasing, with high functionality, and designed to meet the unique needs of learners who are deaf. HBT Architects have presented us an exquisite 'research home' at the pinnacle of understated elegance."
Research centers and labs are active in the building, and the second floor of the building houses the Imaginarium, where faculty and students gather to develop creative and innovative ideas. A meditation garden is on the first floor, with native plants that provides a common area where people can sit and think.
The William G. McGowan Charitable Fund gave a $1.75 million grant, which included a $250,000 matching challenge, for the construction of the building.
To learn more visit the Rosica Hall webpage.
Topics