NYSAR3 College Council Announces 2020 Grant Winners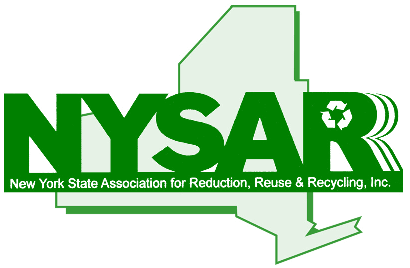 Each year, the New York State Association for Reduction, Reuse and Recycling (NYSAR3), and NYS Pollution Prevention Institute (NYSP2I) provide two $5,000 awards to New York State University and colleges who are members of the NYSAR3 College Council. The grants go to campuses that have projects that focus on source reduction, reuse, or recycling.
The College Council received a variety of applications this year and is excited to announce this year's two winners:
The State University of New York College of Environmental Science and Forestry, SUNY ESF: Susan Fassler, Sustainable Facilities Manager, is overseeing the project, Developing Menstrual Product Accessibility and Sustainability program. SUNY ESF will receive a $5,000 grant to help purchase reusable menstrual cups and materials for reusable pads. This project will help SUNY ESF reach its goal of becoming a zero waste campus by 2025 by having accessible zero waste menstrual products available along with education material for their campus community, including students, staff and faculty.
Syracuse University, SU: Assistant Professors for the School of Design, College of Visual and Performing Arts Seyeon Lee, PhD, Louise Manfredi PhD, Zeke Leonard and Rebecca Kelly are overseeing the project, Does School of Design care about the environment? SU will receive a $5,000 grant for this research project. The goal of this project is to collect data on incoming freshmen students' understanding of waste management system, explore whether attitudes toward sustainable material use can be altered when confronted by accumulated landfill waste over the course of an academic year, and given this information, observe if students reduce, reuse, recycle or send the material to the waste to energy facility. The research will include data to determine if there is a decrease or increase in waste.
The College Council is a program of the New York State Association for Reduction, Reuse and Recycling designed to provide a forum for college students, staff and faculty to share information about common challenges and best practices related to recycling, waste prevention, and other environmental issues. The College Council is a membership-based program offering a number of members-only benefits, including its own listserv, an electronic newsletter, regional and statewide workshops, discounted memberships and conference registration fees. To learn more about the College Council and NYSAR3 please visit nysar3.org.
Topics