Online archive proves there's plenty in a name
Website chronicles names behind RIT roads, buildings; family of Ingle Auditorium namesake to visit June 23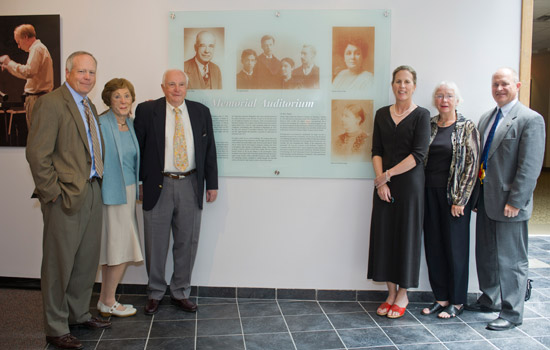 Elizabeth Lamark, ETC Photo/The Wallace Center
What's in a name?
RIT Libraries answers that question many times over, about RIT roads, buildings and other structures, on a website devoted to preserving and sharing the university's rich heritage.
The most famous namesakes, such as George Eastman, and a few of the more contemporary, including Thomas Golisano, likely need no introduction. But some other names aren't quite as familiar as those of the founders of Eastman Kodak Co. and Paychex Inc.
Meet me at Andrews and Wiltsie
You might not have known, for example, that Clark Gym is named for George Clark, one of Kodak's original 14 investors and an RIT Board of Trustees member from 1910 to 1953. Clark designated a gift for the creation of a health and recreation center.
Residents of Gibson Hall might know that Carleton Gibson was RIT's first official president—serving from 1910 to 1916, when the institute was known as Mechanics Institute. (Last fall, students gave the name "Gibson" to a black bear who wandered onto campus near their hall, further memorializing the founding president's surname.)
The name of RIT's longest-serving president, Mark Ellingson (1936–1969), identifies another residence hall. Ellingson, who was also an economics professor and wrestling coach, was instrumental in the name change of the Rochester Athenaeum and Mechanics Institute to Rochester Institute of Technology and in bringing the National Technical Institute for the Deaf to RIT.
And most everyone who studies at, works on or visits the RIT campus uses Andrews Drive—the road encircling the central part of campus—which is named for Mr. and Mrs. Ezra Andrews. Ezra Andrews served on the board of directors for about 30 years and was its first president (1891–1899). On the southeast section of the roadway, Andrews Drive meets Wiltsie Drive—named after Charles Wiltsie, a co-founder of Mechanics Institute and a 43-year member of the Board of Trustees. A lawyer, Wiltsie was editor of the institute's first publication, The Athenaeum.
Playing 'hardball' in Ingle Auditorium
You've probably listened to talks, watched a movie or two and enjoyed live shows from the plush seats inside spacious Ingle Auditorium. But what do you really know about the history of one of RIT's signature performance venues, located in the Student Alumni Union?
With seating for 505, Ingle is RIT's largest auditorium. Dedicated on May 17, 1969, it has hosted talks by famous people—including a former president (Gerald Ford in 1992) and a presidential hopeful (consumer activist Ralph Nader, who visited shortly after his failed 2000 presidential bid).
A live political TV talk show, MSNBC's Hardball with Chris Matthews (featuring then-New York gubernatorial candidate Rudy Giuliani in May 2000), was hosted there, as was actor Danny Glover (1998) and a then little-known—to many people at RIT at the time—provost from Maryland by the name of Bill Destler, who fielded questions there during an open forum in 2007.
Meet the Ingles
Ingle Auditorium is named in honor of Arthur Ingle's mother, Albenia Elizabeth Ingle, and wife, Maude Dennie Ingle. Arthur Ingle served on the Board of Trustees from 1941 until his death in 1954, and he left a bequest to provide for the auditorium's construction. A plaque recently placed under the venue's marquee states, "The auditorium was designed to serve as a cultural center for RIT students to attend plays and musical events, view films, and welcome speakers to campus." (Ingle Auditorium also served as the campus chapel before the opening of Schmitt Interfaith Center in 1985.)
Owner of a local machine-tool company, Ingle is credited with helping to develop the institute's cooperative-education program for students in the mechanical engineering program. As a member of the Rochester City Planning Commission and Civic Improvement Committee, he was influential in the creation of the Rochester War Memorial (now known as Blue Cross Arena at the Community War Memorial)—giving him the distinction of being known as the "father of the community war memorial," according to the What's in a Name? website.
Ingle was also a longtime trustee of the Rochester Chamber of Commerce and, just prior to his death, gave his East Avenue, Rochester, home to RIT. The property became the residence of President Mark Ellingson and his family.
Harlan Calkins, grandson of Arthur and Maude Ingle, will be on hand at noon on June 23 to see the new plaque. Calkins is chief executive officer of Rochester Midland Corp., which hires RIT co-op students and supports an endowed scholarship for students working in Facilities Management Services while attending classes at RIT. The firm also has financially supported the Golisano Institute for Sustainability.
"Arthur Ingle recognized the long-term need for skilled people in the machine-tool industry and decided that supporting an institution providing sophisticated education was necessary for the long-range health of the industry in Rochester," Calkins says. "His dedication to the success and growth of RIT was the result."
RIT Libraries' online exhibits
The What's in a Name? online exhibit includes 50 short biographies honoring many of those associated with the history of RIT for their numerous contributions. It is one of three "always open" online exhibits hosted by RIT Archives and Special Collections. The others are Art on Campus, a gallery of publicly accessible campus artwork that can be browsed by artist, type, collection and location; and Spirit of RIT, which shares the story of RIT's one-time live Bengal tiger mascot, Spirit (and a "successor," Spirit II).
RIT Archivist Becky Simmons manages the online archives, and she hopes to create more.
"I think it's very important that people outside the university community here at RIT have access," Simmons said in an interview about the online exhibits on the RIT News podcast "Studio 86."
"We have alums all over the world who would never get to come here or don't come that often. So this is our way of allowing them to have a little piece of the history at their fingertips."
Web extras:
Art on Campus
Spirit of RIT
What's in a Name?
RIT Libraries Online Exhibits
Studio 86: RIT Archives Online Exhibits (interview with RIT Archivist Becky Simmons)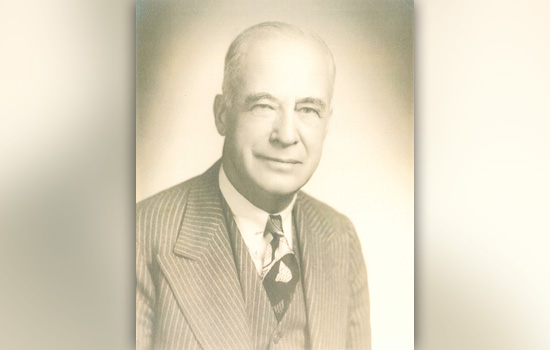 Topics