Optimism abounds at RIT's Spring Career Fair
More than 245 employers represented small, medium and large companies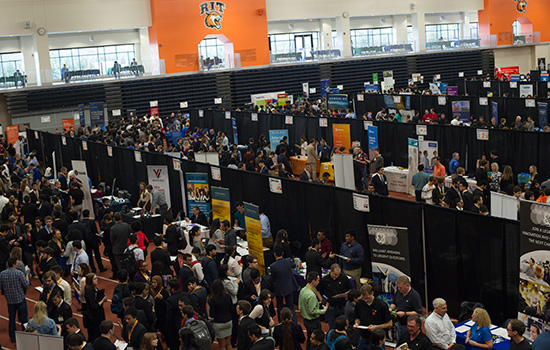 A. Sue Weisler
Rachelle Siawta and Sarah Woolf Spath are proof that Rochester Institute of Technology's career fairs connect students with employers.
When they were students, Siawta '10 (electrical/mechanical engineering technology) and Spath '13 (mechanical engineering) both were offered co-ops with Exelon Corp., which owns and operates the Ginna Nuclear Power Plant in Ontario, N.Y. They have been working for the company permanently for years and returned to the RIT campus to recruit other students during Wednesday's annual RIT Spring Career Fair.
"We always come back to RIT because we get great quality, highly-educated candidates," said their co-worker, Caitlin Cardinale '12 (human resource development), who said they were hiring full-time mechanical and electrical engineers.
Representatives from more than 245 companies filled the Gordon Field House as more than 4,600 students—most of them wearing business attire—asked and answered questions about possible employment. Between 1,000 and 1,500 students were expected to meet with employers Thursday for follow-up interviews.
"It was clearly another very successful career fair and one of the largest spring fairs we've had," said Manny Contomanolis, senior associate vice president and director of RIT's Office of Career Services and Cooperative Education. "I was gratified to see how positive the participating employers were about the quality of our talented students they saw."
Shareef Ali, a fifth-year computer science major from Moorhead, Minn., is seeking a full-time software engineering position after he graduates. He stood in a long line waiting to speak with a representative from Microsoft.
"I'd love to work there because it's one of the biggest companies in the world," he said.
But Ali didn't discount the possibility of working for a small start-up company either. "I like the risk. I like it when someone has an idea and tries to make it work."
Steve Page '79 (electrical engineering technology) was among four RIT alumni who came to recruit students for Raymond Corp., a Toyota-owned company near Binghamton, N.Y., that builds forklifts.
"We like RIT students and come here to recruit because you have such a big program," Page said. "We're looking for mechanical engineers, software engineers and computer science majors."
Page said his company has hired numerous RIT students over the years, starting with co-ops. "It's a good way to find out how good a person is and if it's a good fit," he said.
Mathura Raghavan, a master's student in telecommunications engineering technology who is from India, was seeking her first co-op. She researched the companies attending the fair to find out what they were seeking and planned to chat with representatives from 14 companies.
"I'm a bit optimistic. But I still have time. This is only my second semester here," she said.
It was the first RIT Career Fair for the New York State Office of Information Technology Services, which sought students for co-ops and full-time positions in information technology and computer security.
"We're looking for talented people to join New York state," said Andy Lyng, who was interviewing prospective employees. "I have seen some great candidates that government is looking for."
Brian Powers, a second-year computer engineering major from Vestal, N.Y., stood in a long line waiting to talk with representatives from Harris Corp. Powers said he'd like a co-op in Rochester so he can keep his current housing, and was flexible—he'd consider coding or working as a software engineer, but his preference would be to work with computer hardware.
"I'm planning to talk to at least 10 companies here and may apply to a lot more online," he said.
Rachael Thormann, a third-year computational math and computer science major from Williamstown, N.Y., was looking for a co-op for this summer. This was her second career fair—she was offered two co-ops as a result of her first career fair, but she turned them down. She planned to visit about 20 employers.
"I probably won't turn them down this time," she said.
Shin Lutondo, a third-year chemistry major from Elizabeth, N.J., planned to visit four prospective employers, including Johnson & Johnson and Intel, where he hoped he could find a co-op in research and development.
"I came with a plan and we'll see how it goes," he said. "You've got to sell yourself, tell them what you want and see if there's a match. And if not, then it's on to the next one I guess."