Ornithology expert to speak at RIT April 2
Jed Burtt's talk will explore the 'true founder' of American ornithology, Alexander Wilson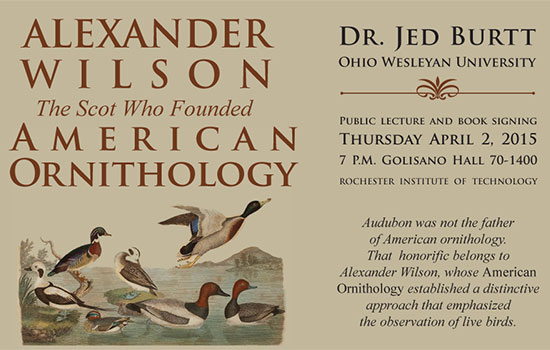 Bird enthusiasts are familiar with Wilson's Plover, Wilson's Snipe and Wilson's Warbler. But who is Wilson, and why are these birds named after him? Ornithology expert Jed Burtt reveals and explores the true founder of American ornithology, Alexander Wilson, at a talk at 7 p.m. April 2 in Golisano Hall auditorium, Rochester Institute of Technology. A book signing follows the presentation.
During his illustrated presentation, Burtt will tell the story of how Wilson—a Scottish refugee—arrived in Philadelphia and was impressed by the abundance of birds he discovered in the fields of forests of America. In 1803, Wilson met William Bartrum and together they conceived the idea of describing all of the birds living in the United States. Wilson taught himself to draw and paint birds, and to identify them, and began his collection during a walk from Philadelphia to Niagara Falls in 1804. Wilson's first volume of American Ornithology was published in 1808. Eight more volumes followed.
Burtt, the Cincinnati Conference Professor of Zoology emeritus, served as editor of the Journal of Field Ornithology and president of the Association of Field Ornithologists, the Wilson Ornithological Society, American Ornithologists' Union and the Ohio Alliance for the Environment. He is the author or co-author of about 90 scientific papers, most of which deal with the evolution of color in birds and the microbiology of plumage. He has written six books, including his most recent, Alexander Wilson: The Scot who Founded American Ornithology. In 2013, he received the Margaret Morse Nice Award from the Wilson Ornithological Society for contributions to the field of ornithology.
The free lecture is sponsored by RIT's College of Science and supported by the John Wiley Jones Science Endowment Fund.