From out of the 'Corner' 
and into the spotlight

Alumni donation of $1 million drops the puck on plans for new ice arena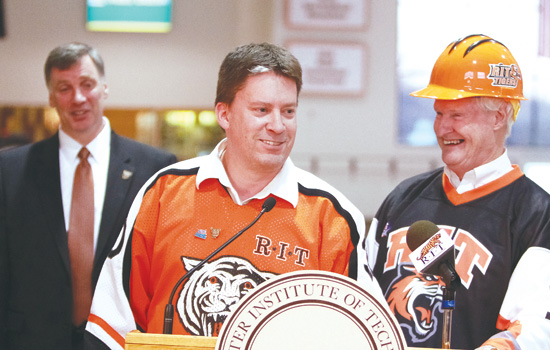 Dylan Heuer
While navigating the demands associated with studies in computer science, Stephen Schultz '89 took advantage of numerous outlets on campus to maximize his college experience. But for the co-founder and chief technical officer at Pictometry International Corp., nothing rivaled his passion for Tigers hockey.

"I always said if Pictometry took off, I'd kick in toward a new rink," Schultz recalls, "and I now have the opportunity to do so."

Joined by his wife, Vicki Schultz '94, '99 (business administration, MBA), the alumnus presented an opening gift to Tiger Power Play—The Campaign for RIT Hockey, which kicked off last month during a special presentation inside Frank Ritter Arena. The gift featured $1 million in Pictometry stock that he earned through co-founding the company.

The campaign goal is $15 million and targets alumni and other supporters of RIT men's and women's hockey. It's expected a new arena—designed to accommodate 4,000 to 6,000 fans—will cost $25 million to $30 million to build. RIT plans to cover the remaining cost, but when and where construction will take place has not yet been determined.

Schultz says his affiliation with RIT hockey dates back to 1982. As a regular at home games, he would later become co-founder of the Corner Crew. Additionally, during his time as an RIT student, he served as editor in chief of Reporter magazine and was a member of both Computer Science House and Student Government.

"He very much enjoyed the RIT experience, partly because he created a lot of it," says RIT President Bill Destler. "I think this is a wonderful example of an individual who not only contributed to the campus as a student but went out and contributed to our community by building a first-rate and growing company and is now giving back to the university and the community in an extraordinary way."

Having witnessed firsthand the school spirit generated by the Tigers' NCAA Frozen Four appearance, Schultz appreciates the impact a newer, larger arena will have in engaging a broader spectrum of the campus community.

"The more connected your students are, the more connected your alumni will be, and hockey is a big part of that." 

For more information on Tiger Power Play—The Campaign for RIT Hockey, visit www.rit.edu/powerplay