PA student among first to earn BS/MS degree
Student SpotlightAlexandra Williams, fifth-year physician assistant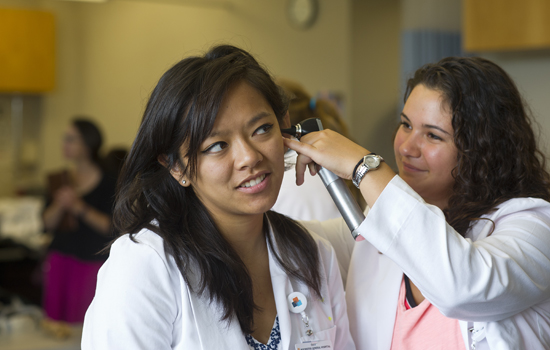 A. Sue Weisler
Alexandra Williams, a fifth-year student in the physician assistant program, is finishing up her last clinical rotation in surgery at Rochester General Hospital before she crosses the stage next month. Williams, from Uxbridge, Mass., is a part of the first graduating class to receive a BS/MS degree in the program's history. During her time at RIT, she has developed a passion for international community service and emergency medicine. She got involved with Restore Haiti, a child sponsorship program, and volunteered in the organization's clinic. She also has served as a member of the Physician Assistant Student Association and worked as an Undergraduate Admissions Student Ambassador. After graduation, she will be joining the Emergency Medicine Physician Extender Development Program at Rhode Island Hospital in Providence, R.I.
Question: What brought you to RIT?
Answer: RIT was on my list of colleges to apply to because I had heard about the PA program. I visited the school during a family trip to Niagara Falls and completely fell in love! It was over the summer and there were almost no students. I never even saw inside the buildings, but I stepped on campus and just felt right at home. After that experience, I came to an open house in September of my senior year. I remember being so impressed by the facilities and the faculty. One of my now professors and mentors, John Oliphant, was running the information session and must have spent at least an hour talking with my family and answering all of our questions afterward! RIT immediately became my top choice school and I ended up applying for early decision.
Q: Why did you choose your major?
A: Growing up I was always interested in medicine and a career as a physician assistant felt like a pretty natural fit. My dad is a physician and my mom is a nurse so I was lucky to have the opportunity to be exposed to so many different careers in medicine. I did consider nursing or medical school, but I like the autonomy and flexibility of PAs, especially when it comes to changing specialties.
Q: What are some goals you achieved at RIT?
A: When I entered RIT, my biggest goal was to successfully complete my four undergraduate years and make it to clinical rotations with as much clinical knowledge and confidence in myself as a future provider as possible. I feel that being in my final of the 10 clinical rotations I can say that I have achieved that goal and I am very much looking forward to stepping out into the world as a PA. Throughout my undergraduate career at RIT, I also became very involved with a child sponsorship organization based in Jacmel, Haiti, called Restore Haiti. I have always been very involved in volunteer work and community outreach projects, but it wasn't until I got to RIT and became involved with Restore Haiti that I discovered a true passion for international travel and service in developing nations. I have made it a life-long goal of mine to continue to grow that passion and spend more time involved with different relief- and community-based organizations around the world. I now sponsor a child in Restore Haiti, have gotten my family involved in sponsorship and even traveled with my dad to volunteer in their clinic.
Q: As a physician assistant, what are your duties?
A: A physician assistant's duties are very similar to a physician. We work in collaboration with them but we are responsible for our own patients, including imaging and laboratory studies, diagnosis and treatment. We can prescribe medications, perform procedures, and even assist in surgeries.
Q: What kind of experience have you gained during clinical rotations?
A: I have had so many valuable experiences during my rotation year. Each and every rotation has been different and has taught me not only about a new area of medicine, but also shown me what my own strengths, weaknesses and areas of comfort are. I have been lucky to be welcomed into the lives of many individuals who have allowed me to participate in their care. Every day held something new. I have lost patients and helped bring new ones into the world, supported patients and families through difficult decisions and emergent situations, and even made up silly games with the pediatric patients so they won't be scared of visiting the doctor's office. One patient I will never forget requested that I stay after my long shift working on the labor and delivery unit so that I could be there for the birth of her daughter! I also learned so much about integrating myself within a medical team on a smaller scale and as part of the hospital and community as well. There were difficult shifts or challenging patients but there is always something to gain from each person and each day. Overall, this rotation year has been an overwhelming, exciting and humbling experience.
Q: What did your graduate project/thesis focus on?
A: My graduate project focused on the most recent innovations in rehabilitation therapies for patients who have suffered a stroke and experience residual upper extremity dysfunction.
Q: What is it like to be a part of the first class to receive a BS/MS in the program's history?
A: Since I first visited RIT and saw the wall filled with framed photos of each class our program has graduated, I have been so excited by the opportunity to be a part of that legacy. Even this close to graduation it feels so surreal to know that my picture is going up on that same wall. And to be a part of such a historic class for our program is just very exciting. There were certainly bumps in the road at times, as we as a program have navigated our way through the past few years, but there has always been great communication among our class and our faculty about ways we can continue to improve things for future classes. Overall it is a wonderful time to be at RIT and to be entering this profession.
Q: What advice would you give students considering the physician assistant program?
A: As a student ambassador, I talked with many prospective PA students and I tell everyone the same thing: If you have a passion for medicine and you are excited to learn and work hard, this is a wonderful program and you would be so lucky to have an opportunity to be a part of it. It is important to remember that not all PAs take this route, the more traditional way to earn a degree as a PA is to complete an undergraduate degree and then a master's level program. I would advise any prospective student to consider whether an intensive five-year program is a good fit for them because at the end of the day, no matter how long it takes you or where you go to school, we will all be PAs and we will all be a team.
Q: After graduation, what are your plans?
A: I recently accepted a position as a member of the Emergency Medicine Physician Extender Development Program at Rhode Island Hospital in Providence, R.I. What I love most about emergency medicine is that every minute of every day is different, but no matter what you always have an opportunity to help people through some of the most difficult and frightening times in their lives. I start in September so I am hoping to have time this summer to take my PANCE exam (the PA national boards) and spend time with my friends and family back home.