Packaging student takes first place in contest
RIT packaging student takes first place in national design challenge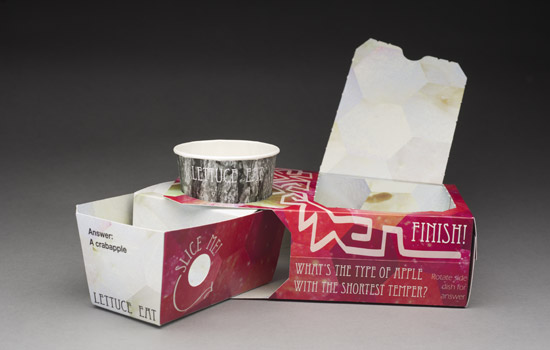 Katherine Bukys designed a happier meal.
Her apple-themed package, "Lettuce Eat: A better way to do fast food," won top honors at the Paperboard Packaging Alliance Student Design Challenge during the annual Pack Expo and Conference in Chicago. The graduate of Rochester Institute of Technology's packaging science program was recognized for her sustainable and easy-to-use packaging for a quick-serve chain kids' meal.
This year more than 200 students competed from 13 leading packaging and graphic design programs. They are required to not only develop the package design but detail the production process—use of sustainable materials and how the package would be produced, shipped and assembled—and produce a marketing plan.
Bukys' design focused on these elements and has three components including an entrée and side tray held together by an outer sleeve. A beverage cup and side dish nestle in the package.
"It can be assembled quickly, it keeps everything in one place, even the drink, so that a parent doesn't have to worry about juggling bags and taking the time to figure out which parts of the meal go to which child," says Bukys. Her winning entry has moving parts and activities to keep the child entertained. The child "peels" or "slices" different sections to get at the food inside.
Winners receive a cash prize to share among the team and one of equal value for the school. First place receives $2,000, second place receives $1,500, and third place receives $1,000. Winners are chosen by a team of four paperboard packaging industry professionals who rate submissions based on their response to the competition scenario, innovative structural and graphic design, functionality and quality of the finished product.
"The judges we talked to said her design was unique from a sustainability standpoint. For the first-place finish, that was the deciding factor. Her design addressed it so much more than any of the others," says Bill Wynkoop, lecturer in the packaging program and mentor to Bukys. "Katherine has been in the competition for the past two years as part of a team, and this year, her third competition, took this on solo. Her determination and persistence was so impressive to me."
Bukys, who grew up in Penfield, N.Y., currently works for Astor Chocolate as a packaging engineer, designing new structures and packaging for their product development department.
"Both the classes at RIT and my co-ops have given me valuable knowledge that I have applied toward my designs today," says Bukys. "I've had good learning experiences with both of my previous teams, but this time around, I got started early and decided to tackle both the structure and graphics myself. I'm very proud of how it turned out, and can't thank Bill enough for his help throughout this project."
Another RIT packaging student, Alexandra Hills, received first place in the Amazing Packaging Race at Pack Expo. The competition sends teams of packaging students around the exhibition floor to complete packaging and processing-related tasks in exchange for points from exhibitors. Hills teamed with Florin Mustata of Purdue University Calumet, Stephen Suba of San Jose State University and Dillon Quist of Wisconsin Indianhead Technical College.
"Students competing in this event have gone on to do really good things," Wynkoop added. "All three of our submissions were fabulous. For Katherine, she did all the design, the photography. I'm so happy for her and proud of all the students."
Video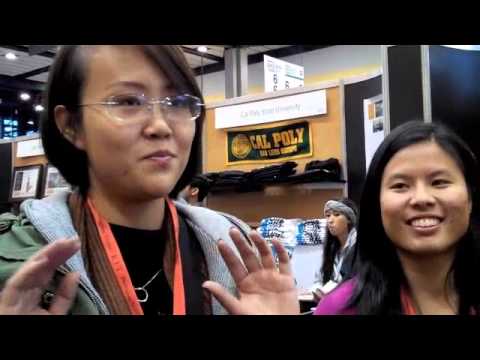 Topics