Passion for education allows victory over impossible odds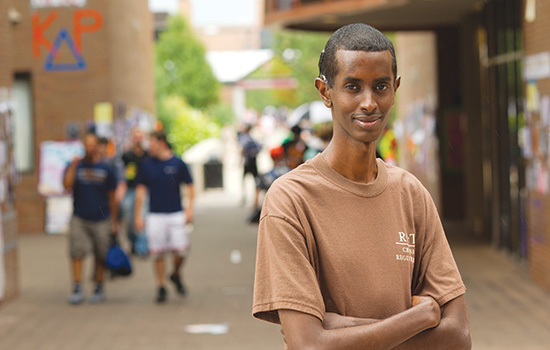 A. Sue Weisler
Bakar Ali, an RIT/NTID urban and community studies major in the College of Liberal Arts, is used to pressure. Born in war-torn Mogadishu, Somalia, his mother was killed in a mortar attack. He was homeless and lived on the street when he was 7. 

Ali recalls going three days without 
food after the death of his mother. 

"Despite that, I never missed going to 
my school," he says. "I've always had a 
love for education."

He became deaf as a teenager after a bout with malaria and fought to attend school—no one wanted to accept a deaf student and no access services were provided.

"When I started attending school, everybody thought I was crazy," he says. "I had to study much more and memorize the important facts in my books. And whenever I had the time, I would sit alone and study until my eyes would no longer stay open."

Ali attempted to start a national association to help deaf Somalians. In 2006, Ali helped establish the Somali Deaf Union, the first Somali organization for deaf individuals. That later developed into the Somali National Association of the Deaf, and he became president. But he became a target 
of terrorists when he met with government officials while starting his association.

"My life was in danger," Ali says. 
As president of the association, he worked with officials in government. Militias there "used to kill on sight anyone who they saw involved with the Somali government. I had no choice but to leave the country because I had seen people killed in front of my eyes."

He moved to Kenya in 2007 and relocated to Lansing, Mich., two years later.

"I did not come with any money or 
assets, but I came with a mind full of desires and a heart full of dreams," he says. 

He worked hard in a factory job in Michigan and was soon made a team leader. He learned English and received scholarships, financial aid and loans that allowed him to attend RIT—a place that a friend years earlier told him he should think 
about attending.

"He told me about RIT, and I wished 
I could come here, but I never dreamed 
that one day I would be here," Ali says.

He has made the dean's list and attended classes in the summer while keeping 
busy working as a research assistant.

"Bakar was awesome to work with," says Jessica Pardee, assistant professor in RIT's Department of Sociology and Anthropology, where Ali worked this 
summer. "He's smart, motivated, hard-working and honest. He reflects the positive 
creativity of the millennial generation and demonstrates all the excitement and engagement they have to bring into the academic arena."

Ali also worked in Wallace Library, 
completed an internship with the Center for Youth in Rochester, and prepared for his role as cross-registered senator in RIT Student Government, a new position that he hopes will empower students.

It's clear Ali doesn't have time for 
hobbies—or much sleep.

"Everything I do, I try to do well," 
Ali says. "I multitask most of the time. 
I keep myself very busy."

Ali hopes to earn a Ph.D. and return
 to Somalia to improve the lives of deaf
 individuals there.

"I believe that one day, the people of 
this world will be able to live in peace and mutual understanding, extending a helpful hand to persons with disabilities."