January 15, 2020
by Ellen Rosen
Peace Corps director to give 2020 commencement keynote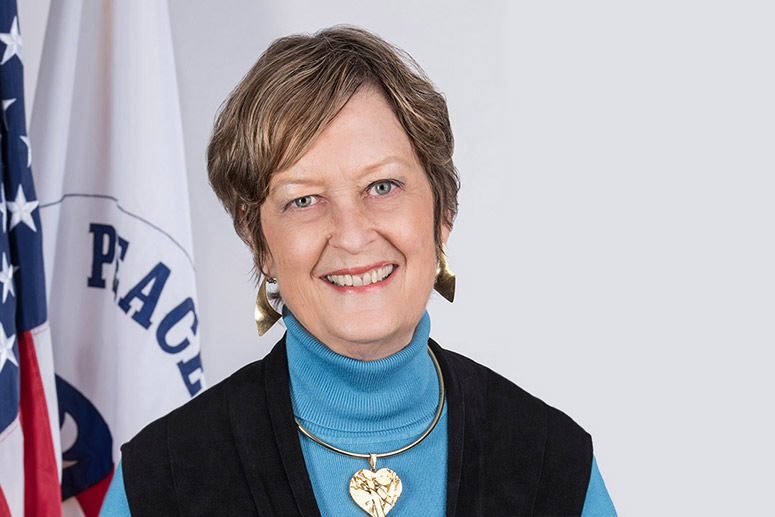 Peace Corps Director Josephine "Jody" Olsen will be the keynote speaker for Rochester Institute of Technology's annual commencement celebration.
Olsen will speak at the Academic Convocation, set for 10 a.m. Friday, May 8, in the Gordon Field House and Activities Center.
RIT President David Munson said the university is honored to have Olsen addressing its graduates.
"One of the things RIT is noted for, as part of its excellence in academics and innovation, is our commitment to using creativity to shape the future and improve the world," Munson said. "Dr. Olsen, through her career and her work leading the Peace Corps, exemplifies that aspect of our mission. I'm sure that her message to our graduates will add measurably ​to what our students have been hearing throughout their RIT experience — that engagement as concerned, global citizens is vital."
Throughout her career, Olsen has championed the expansion of service, learning and international opportunities for Americans of all backgrounds.
Olsen, who holds a doctorate degree as well as a master's in social work, was sworn in as the 20th Director of the Peace Corps in March 2018.
She began her career as a Peace Corps volunteer, serving in Tunisia from 1966 to 1968. She has since served the agency in multiple leadership positions, including acting director, deputy director, chief of staff, regional director for North Africa, Near East, Asia, Pacific and country director for Togo.
Prior to returning to the Peace Corps in 2018, she served as visiting professor at the University of Maryland-Baltimore School of Social Work and Director of the University's Center for Global Education Initiatives. In this capacity, she developed and directed inter-professional global health projects for students in dentistry, law, medicine, nursing, pharmacy and social work. She also oversaw health research projects in Malawi while teaching courses on international social work, global social policy, and global women and children's health.
Since Peace Corps' inception in 1961, 106 RIT alumni have served as volunteers in various capacities. Eleven RIT alumni are currently serving as Peace Corps volunteers around the world.
At the Academic Convocation, Munson will confer degrees upon some 3,500 undergraduate and graduate students. The event kicks off RIT's two-day commencement celebration. For more information, visit the RIT commencement page on the university's website.